THF Q2 2017 Newsletter
The State Of Honor: A Message From Joe
Today The Honor Foundation (THF) is four years old and I have the opportunity to share a profound story with you. It's our story. A story about extraordinary people, generating real change, impact, and creating strategic growth for an organization that matters. Before I begin, I would be remise without providing a special thank you to The Navy SEAL Foundation and Robin King in particular. The Navy SEAL Foundation is our founding partner, and without their support and guidance, we would not be where we are today.
So, here we go…
If you're receiving this newsletter it's for one of three reasons:
1. You've been alongside THF on our journey since our programs launched in 2013-2014
2. You've joined one of the many Tribes of support at THF
3. You're a Navy SEAL / Special Operator and graduate of THF programs
Regardless of where you fall, you are now considered a Stakeholder in our Mission.
You've invested time, talent, and/or treasure in order to impact Human Futures. These futures belong to the most elite military community in the world. You've chosen to invest because it's not just their future we're securing, it's ours too. Their character, integrity, and resilience protected us while they were in uniform and will continue to impact us as they transition out of uniform. Our Fellows are going to continue to change the world around them. They will soon be directors, partners, and vice-presidents of organizations in both the for-purpose and for-profit arenas. Some will run for political office while others will discover new ventures and disrupt the way things are in order to bring about a new and better future. They will bring new leadership and vision into organizations that desperately need their experience. All in all, YOU raised your hand, roger'd up, and volunteered to be the first to serve these men and women as they transition. You asked nothing from THF other than the opportunity to serve those who have served you…
And for this — we — THF Board of Directors, SOF Advisors, Staff, and Fellows are eternally grateful and blessed to have you in our Tribe.
#WhatsNext
As a member of our Tribe you know our Fellows all too well. They wouldn't use the following words to describe themselves, but, they are American Heroes. They've earned the right to have access to a world-class network and transition experience. We should welcome them into the civilian ranks with a meaningful and memorable experience. This is what they receive at THF as a result of YOUR SUPPORT.
Consider this our version of a "Shareholders" report or more appropriately "Stakeholder" Report. Below, I've provided a quick snapshot of the key performance metrics of THF since 2014 up to the present date. Without you, there would be no impact to report, and no lives changed. Our Fellows and YOU are what make us different from every other veteran program in the U.S.
Below quantifies the work you've supported and enabled us to develop. The impact is clear and laser focused:
Since June 2014-June 2017 Honor.org has:
• Raised $4,000,000 (approx.) from 613 donors
• Established 2 Campuses (San Diego & Virginia Beach); 1 Campus Prospect (Fayetteville, NC)
• 9 Full-time employees recruited to execute the Mission
• 11 Groups of Fellows completed our transition program (12 & 13 launching in August)
• 233 Fellows graduated THF from the Special Operations Forces community
• 115+ Fellows have left active duty service and successfully transitioned into new careers
• 118 Fellows still remain active duty and take advantage of THF Alumni programs & network
• 3,495 (approx.) years of accumulated and dedicated service to our country among our Fellows
• 1,650 hours of executive education, coaching, and experiential learning delivered
• 330 networking dinners hosted to provide our Fellows direct access to our exclusive network
• 200+ Employers recruited, educated, and readied to hire our Special Operators
• 100+ Fellows attended six Treks meeting leadership at Airbnb, Deloitte, Starbucks, Tesla & others
• 80+ Volunteer executive coaches recruited
• 200+ Industry-specific mentors on-boarded
• 1 Virtual Reality training campus created (THFvc)
• Our Mission has been recognized by The New York Times, WSJ, and Boston Globe as "Best-in-Class"
#WhatsNext
Over the next six months you're going to see a massive shift in our urgency, drive, and focus. The numbers I just reported are wonderful and we are proud of these accomplishments. Before you arrived to support our Mission, no other organization was accomplishing this work, or coming close to generating impact of this magnitude. We Must Press On Harder. The need for supporting our transitioning elite is still great and largely underestimated. If THF goes away, no one is behind us ready to pick up where we left off.
Therefore failure for me, you, us — is not an option. We need your help.
We're leaving too many men and women behind. 2017 is the year we grow Tribes and scale our impact. We'll never quit until the 1,200 transitioning Special Operators have the option to be supported and welcomed into our civilian ranks with a high-touch, in-person, meaningful and memorable experience. We'll never quit until our virtual education, programs, and coaching impacts a Special Operations Forces community of 70,000. Our Mission is clear. Our small but mighty Team has assembled. Now we need you to share, evangelize, and become the Ambassadors of our work.
In closing, America takes much for granted. We all know it. The water we drink, cars we drive, education we have at our fingertips, and the entrepreneurship in this country is unmatched; what we consider basic rights to life, liberty, and the pursuit of happiness aren't so basic anywhere else in the world. There's only one reason for this — one. The extraordinary men and women of the Special Operations community raise their hands, sign on a dotted line, to serve our nation at the highest levels, in a capacity that only guarantees them a few things: you will see evil and darkness up close, your life will be in danger, your closest relationships will suffer, and you may not come home. Now, they are home and we need your help in serving them in the way they have served us: without reservation or hesitation.
It's our story.
We Must Press On Harder.
2017 is the year we grow Tribes and scale our impact.
You've invested time, talent, and treasure in order to impact Human Futures.
Therefore failure for me, you, us — is not an option. We need your help.
All my best and looking forward,
Joe Musselman
CEO & Founder
---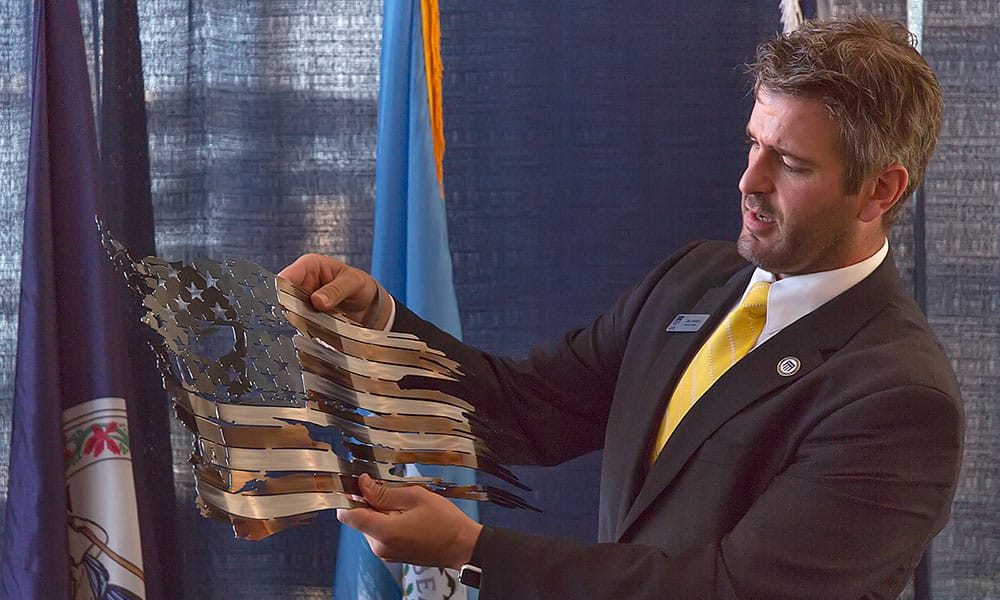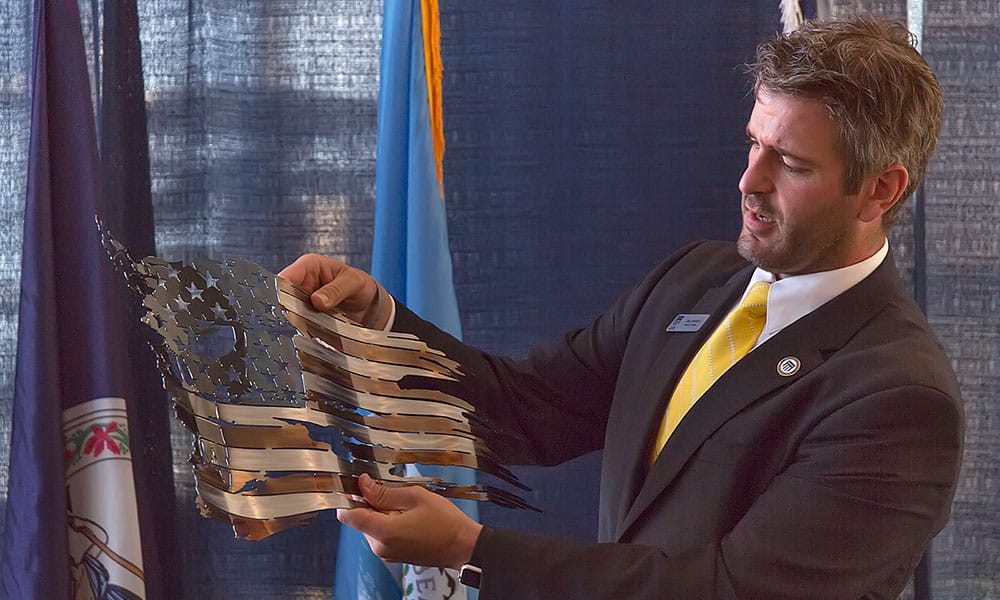 Group 10 Graduation
On May 18th the East Coast program in Virginia Beach, VA celebrated their 3rd class of graduating Fellows. This class, Group 10, honored 15 transitioning Special Operations Fellows including for the first time, two Army Green Berets. These transitioning Fellows were celebrated by a large gathering from the local business, non-profit, and philanthropic community, who chose to miss the local Jimmy Buffet concert to celebrate this special occasion. We were thrilled to have the Executive Vice President and Chief Innovation Officer for Dominion Energy, David Christian as our keynote speaker. David spoke on the themes of service, sacrifice, and his desire to have our Fellows join him in the energy industry. David learned first-hand the relentlessness of THF Fellow's networking prowess when at the end of the night he handed each graduate his business card with his cellphone number attached and woke up the next morning to find two voicemails from Fellows seeking employment!
The Group 10 class Honor Man was Dan Hathorn. Dan, a retired Navy SWCC, wrote a great piece on LinkedIn about his experience, titled "How The Honor Foundation Lowered my Golf Score and Assisted this SOF Veteran."
The Group 10 Valedictorian, selected by the staff was Kyle Hall. Kyle, a transitioned Green Beret (he has taken a job with Resoursive and is based in Chesapeake, Virginia…go Kyle!) detailed his thoughts on THF in a piece titled, "What I Meant to Say at Graduation"
THF's Chief Operating Officer, Jeff Pottinger ended the evening with a challenge to both the Fellows and the business community. To the Fellows, "You are a member of THF for life. Continue to stay involved, continue to use our network, and continue to learn. We know you have friends that were in the same spot you were 15 weeks ago who felt the same anxieties about transitioning. Bring them into the classroom and make them a part of the THF family." To the business community, "You have seen tonight the great potential these graduating Fellows have to impact your local businesses in the same way they have succeeded in the military. We need your help to build on this momentum. Hire these Fellows, mentor these Fellows, and donate to THF so more transitioning service members can have this experience."
The graduating Fellows of Group 10 presented two amazing gifts to THF at the end of graduation. The next East Coast graduation for Group 12 is set to begin on November 30th.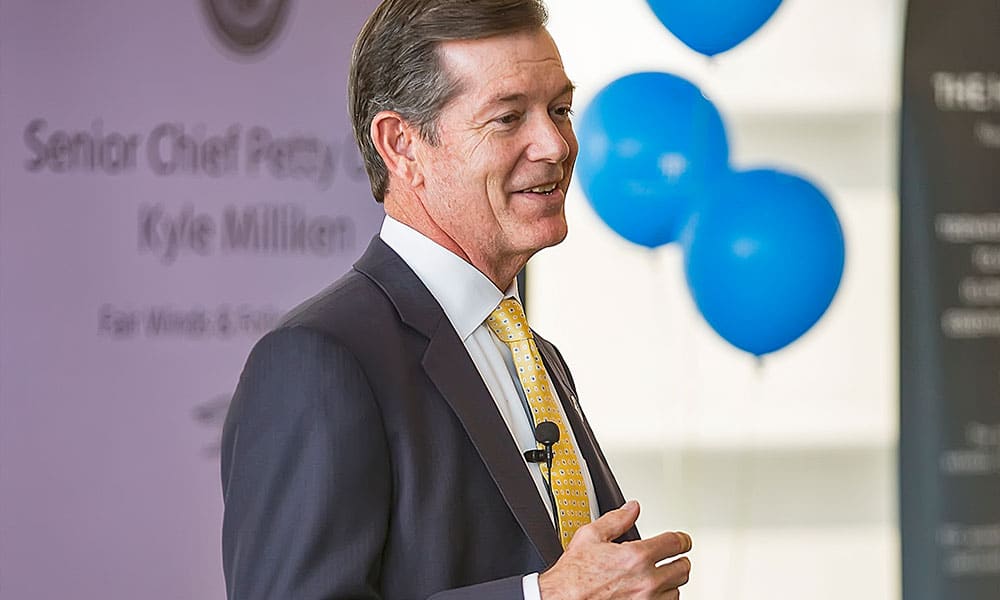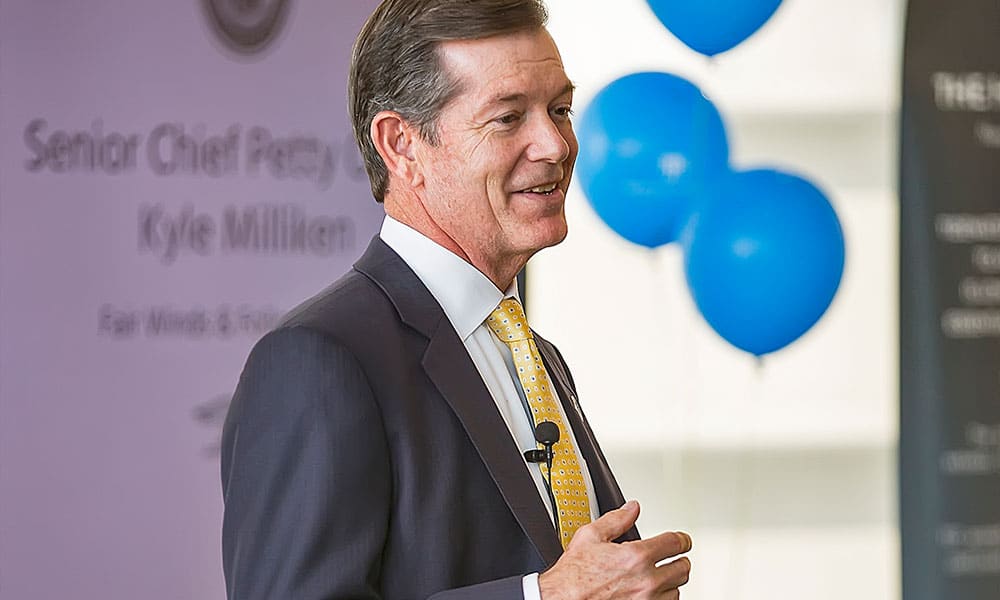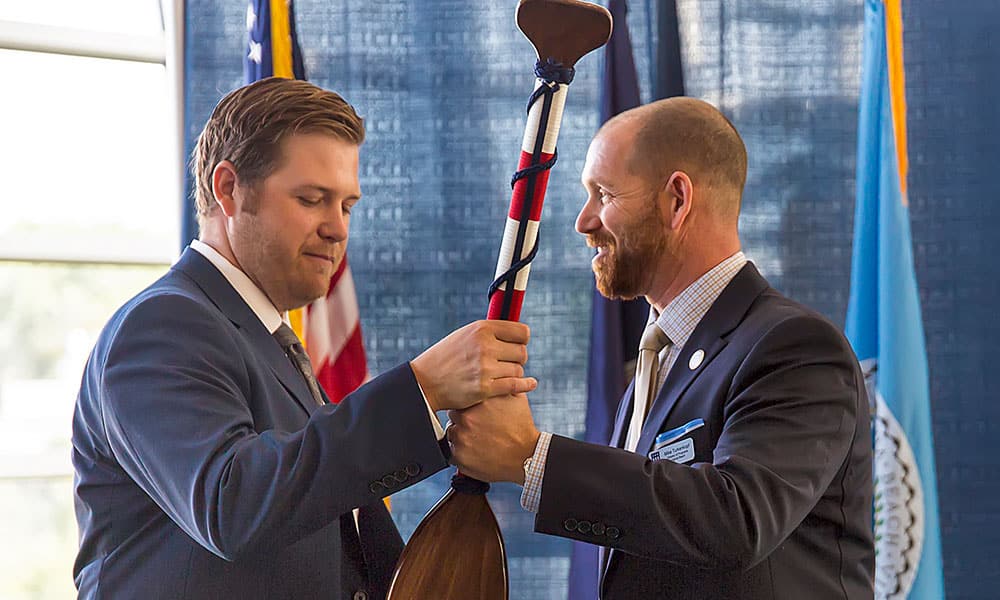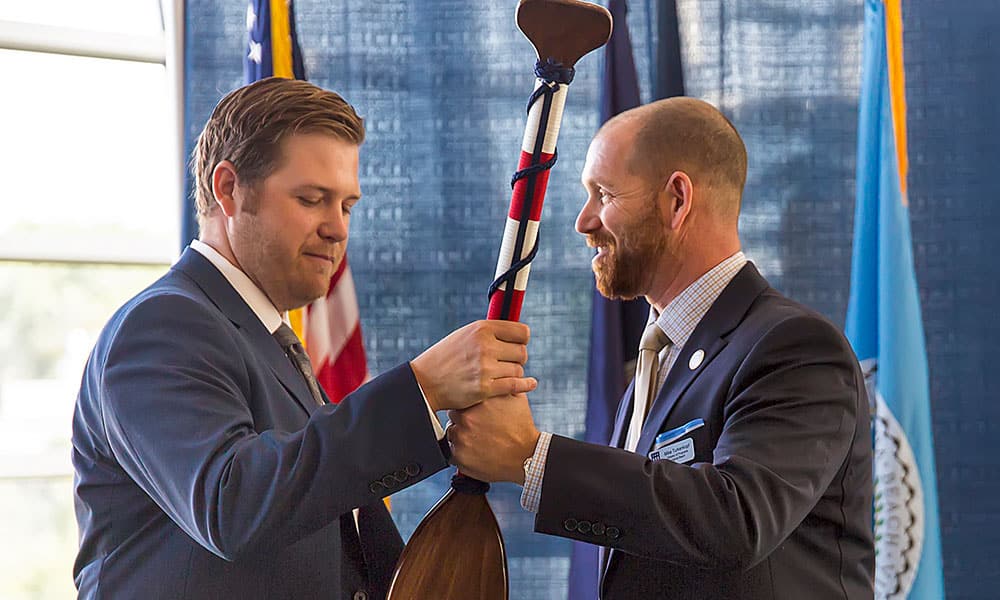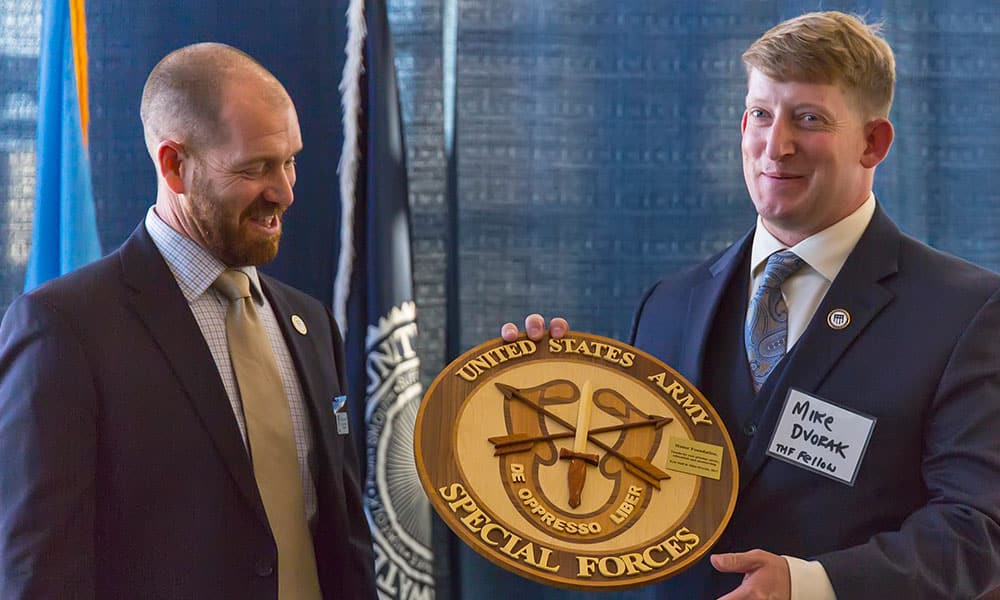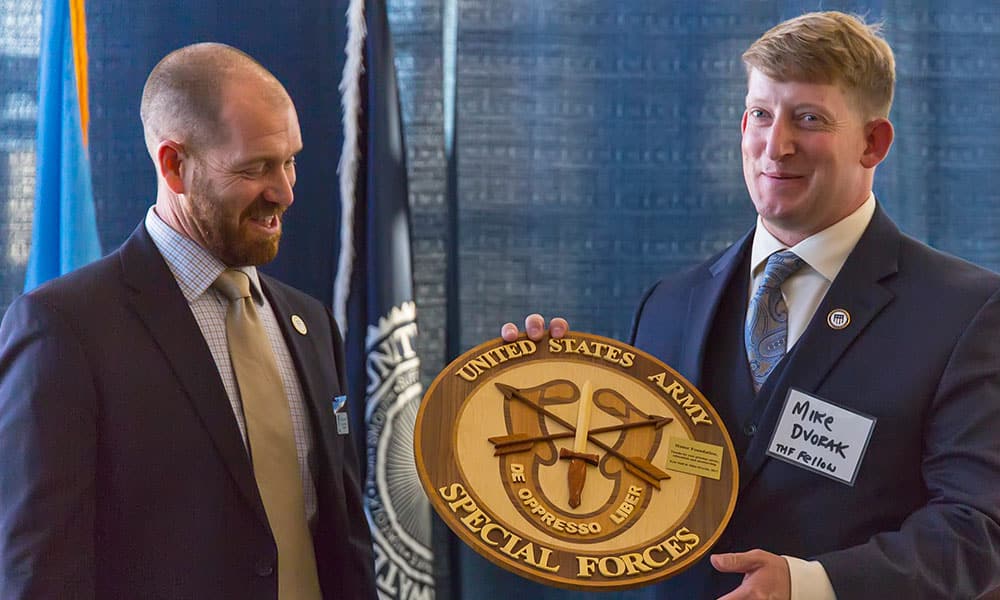 ---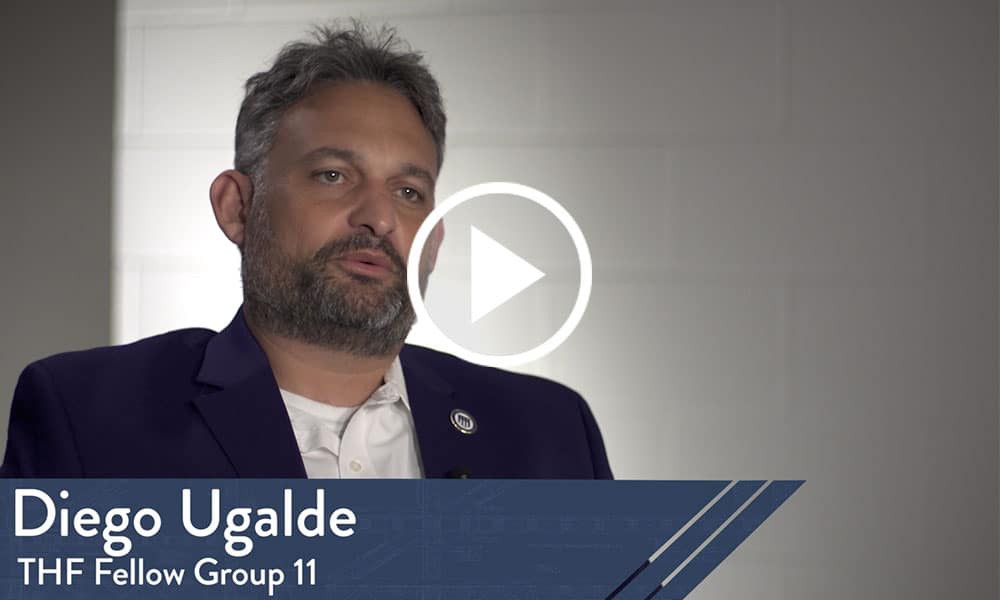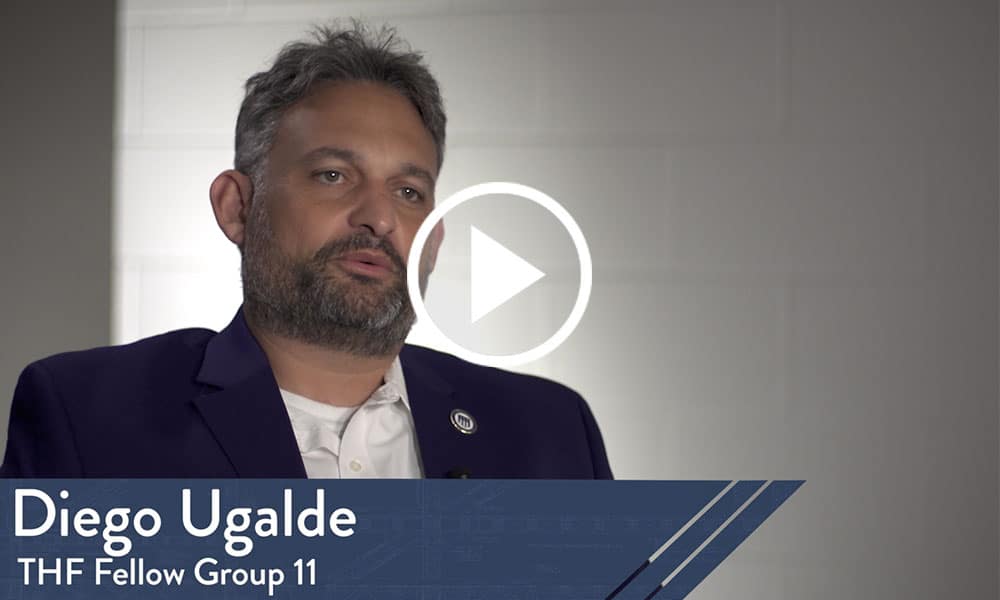 Group 11 Graduation
Group 11 Graduation was celebrated on May 25th in San Diego at the Illumina Theater within Alexandria Real Estate headquarters. Alexandria generously donated the use of the facility for the graduation celebration. It was an amazing evening of gifted speakers to celebrate the achievements and accomplishments of 37 Fellows.
As a reminder of who we are and why we do what we do, we held a moment of silence for fallen Navy SEAL, friend, and colleague, Senior Chief Petty Officer Kyle Milliken whom we sadly lost earlier this year.
US Navy SEAL Diego Ugalde was chosen by his peers as the Honor Man who gave a beautiful and poignant speech about what it means to be a part of a Tribe. First as a member of the Special Operations tribe and now as an alumnus of THF. He clearly articulated the words of himself and his classmates in a meaningful and impactful way that showed the level of impact THF has on the Fellows who complete the program.
Matt Curran, Retired US Marine Raider and now Client Services Manager, at Argonaut Manufacturing Services Inc. was chosen by THF staff as the Class 11 Valedictorian, who reiterated the importance and impact of THF program on his personal growth and development. "I've found my "why" and my hope that I would find a similar setting has been replaced with the sheer joy of being on a team of like-minded people, in a culture that makes me jump out of bed in the morning and drag myself through the door in the evening grinning from ear to ear. A team who ranges in age and experience, but whose work ethic and morals are beyond reproach. A team whose only agenda is to get the job done successfully the first time."
The ceremony was rounded out with commencement speaker Dave Alberga, CEO of The Active Network and Board Member of GovX. Dave spoke to our Fellows about what success and failure looked like and why both are important in a leader and throughout the course of your career, sharing his own scar tissue and the reasons that it mattered most to him.
The evening concluded with a reception that included local CEO's, THF Executive Coaches, Donors, Mentors, Faculty, Staff and THF Alumni who all celebrated the achievements of the Fellows and their dedication and sacrifice to our great country.
---
THF Hires In San Diego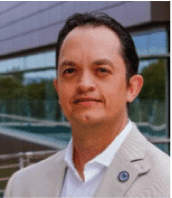 Joe Lara
Director of Programs, San Diego
We are so excited to welcome another alumnus to the staff at The Honor Foundation. Joe Lara is the new Director of Programs for our San Diego campus. Joe will be responsible for program delivery and facilitation for the West Coast classroom experience. Collaborating closely with his counterpart on the East Coast, Mike Turkenkopf, and the Chief of Curriculum, Jeff Pottinger. Joe will help grow the organization's base of Fellows, coaches, and mentors within the San Diego area.
Joe Lara is a native of El Paso, Texas. Upon graduation from high school, he enlisted in the Navy as a Cryptologic Technician in August 1992. His career took him across the country and overseas where he experienced working alongside the Royal Navy, Air Force and British Army. In 2000, he returned to the United Sates and reported to the USS BONHOMME RICHARD (LHD-6) supporting initial strike operations in Afghanistan and the Arabian Gulf/Horn of Africa. Follow-on orders led him briefly away from cryptology in 2003 and into the classroom at the Naval Leadership Center, Coronado where he facilitated leadership principles from Steven Covey and Ken Blanchard to over 1,200 Sailors and Coast Guardsmen.
In 2005, Joe was recruited and successfully screened into the Naval Special Warfare Tactical Cryptologic Support program, a highly skilled and physically demanding role within Naval Special Warfare. Between 2006 and 2010, he trained and deployed with SEAL Team ONE to both Iraq and Afghanistan conducting numerous combat operations in support of Operation Iraqi Freedom and Enduring Freedom. After returning from his operational tours, he was asked to assume a leadership role in preparation of over 70 cryptologic personnel for similar type deployments. He managed to groom his program into one of the premiere departments within Special Reconnaissance Team ONE. Upon his selection to the paygrade of Master Chief, he was asked to transfer to Naval Special Warfare Command where he served as the Force Tactical Information Operations Senior Enlisted Advisor of 350 personnel supporting Naval Special Warfare operations worldwide.
Retiring in 2016, and as a graduate of The Honor Foundation's Group 4, he quickly found himself working alongside various non-profits in San Diego focused on at-risk and fatherless youth initiatives. Prior to joining the staff at THF Joe worked as an Independent Contractor for Marine Special Operations Command (MARSOC) G7, Training Department pre-deployment exercise: RAVEN, as a Subject Matter Expert/evaluator. Joe Lara is married to the former Kimberly Sue Gallagher of El Paso, Texas, and they have two children, Brandon 15 and Austin 14.
Dave Beadle
Director of People, San Diego
Dave Beadle began serving The Honor Foundation as volunteer with the Coaches Tribe in 2016 and is now the Director of People for the San Diego Campus. In this role he is the face to our network, the San Diego Fellows, mentors and the West Coast business community and is responsible for developing and delivering a world-class career pipeline and alumni events across the country. He advises THF Fellows, mentors and employers on how to adopt our process and methodology in order to continually drive value from our people, places, and programs to ensure our Fellows transition successfully.
Dave has many waypoints in a varied and interesting career. Over 35 years in the fitness industry. Nearly 20 years inside the HR department of Qualcomm, overseeing award-winning, employee-focused programs and a culture that kept Qualcomm on the Fortune 100 Best Companies to Work For list for over 10 years running. Entrepreneur. Corporate SCUBA instructor. Fitness and wellness thought leader. Top producing sales rep. As a USMC veteran, Dave is deeply passionate about the challenges faced by our service men and women who are making the transition from military to civilian life. He was a key founding member of the team supporting Qualcomm's Corporate Integration Program for Warrior Veterans (QCIP-Warriors) as a mentor, warrior manager, mentor lead, and volunteer boot camp instructor.
Dave is a musician and front-man for a rock band, an avid skier, motorcycle rider and scuba diver. He loves to travel with his wife Karen from their home-base in Oceanside CA. Dave holds a BS degrees in Marketing and Exercise Science from Oregon State University and an MS in Clinical Exercise Physiology from UC Davis.
---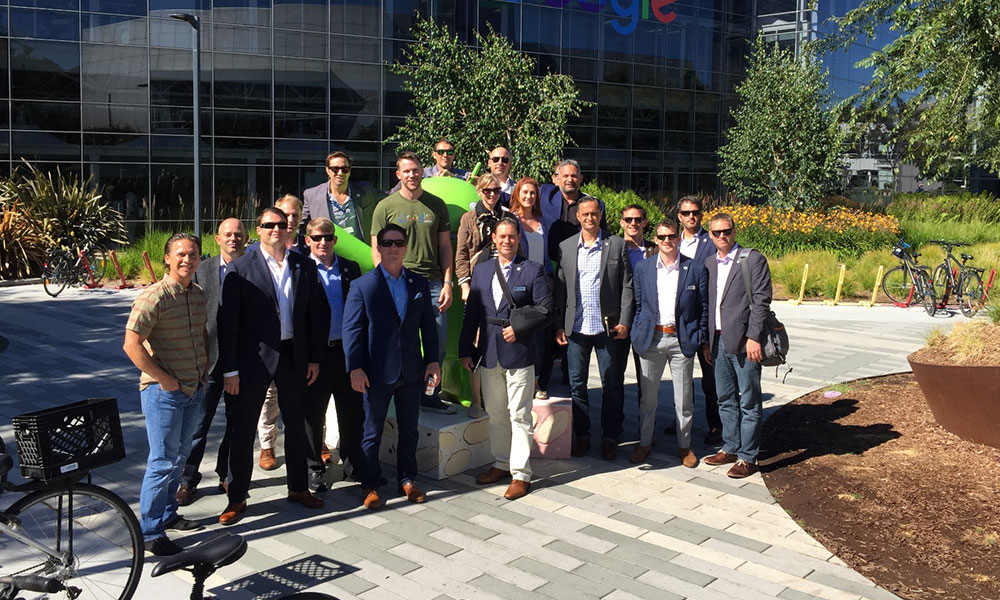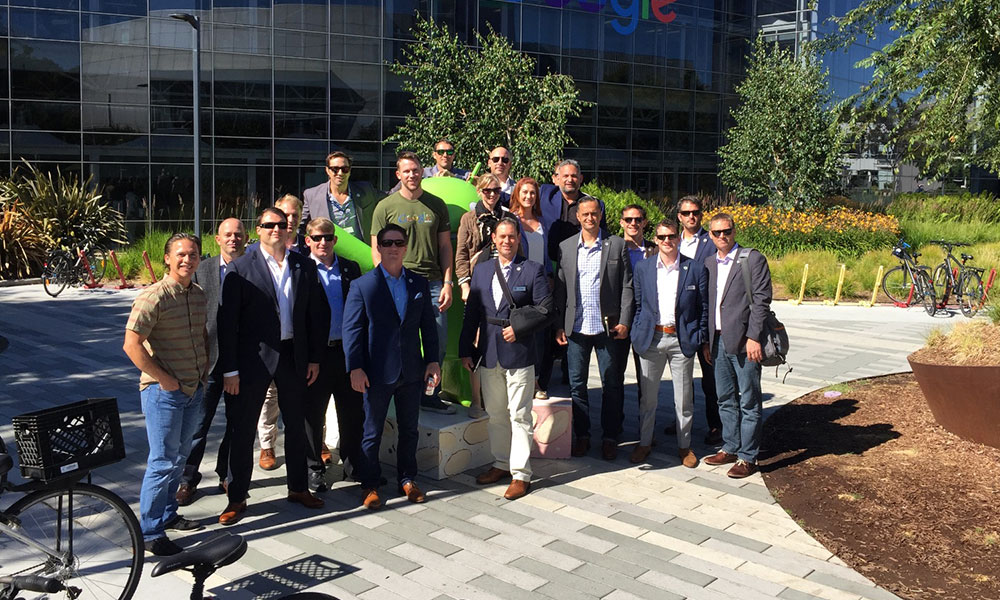 THF Treks
One of the key components to THF's program is the ability to give our Fellows exposure to many different companies on both the West and East coasts. On June 14-17, THF organized a three-day "Trek" to notable companies in the San Francisco and Silicon Valley areas, such as Beekeeper, Dropbox, Mulesoft, Airbnb, Oracle, Google, Facebook, and Yahoo. These visits are intimate and give our Fellows direct access to a variety of large and small companies, their leadership, and the varied cultures found within. It is an opportunity we endeavor to give all our Fellows, sharing insight as to how their skills can be translated, implemented and leveraged in a real-world, corporate setting. We are truly thankful for the companies who continue to make these treks possible.
The next THF Trek will be August 2-4 in Raleigh and Durham, North Carolina. This will be our first visit to companies on the East Coast.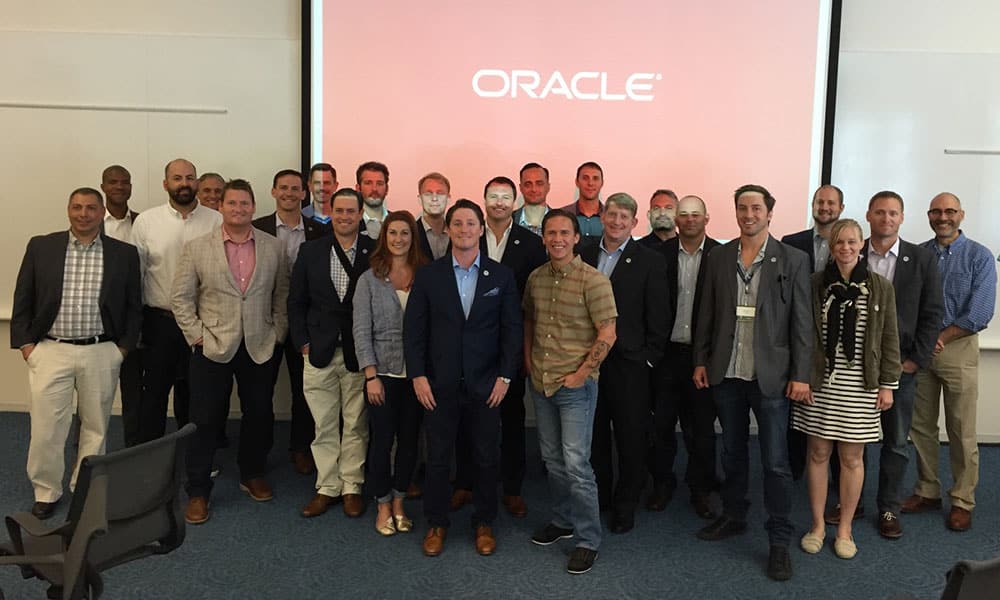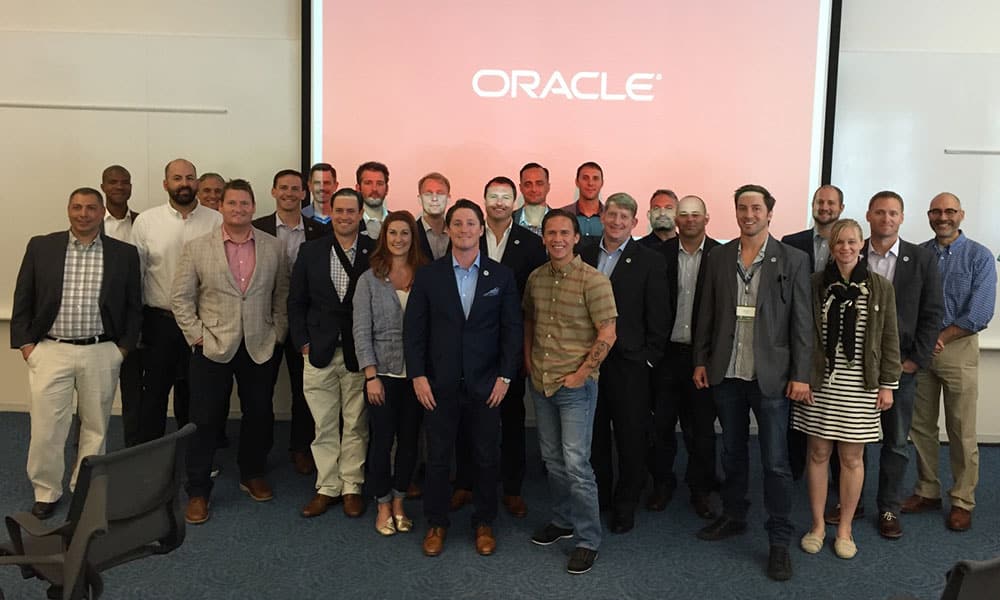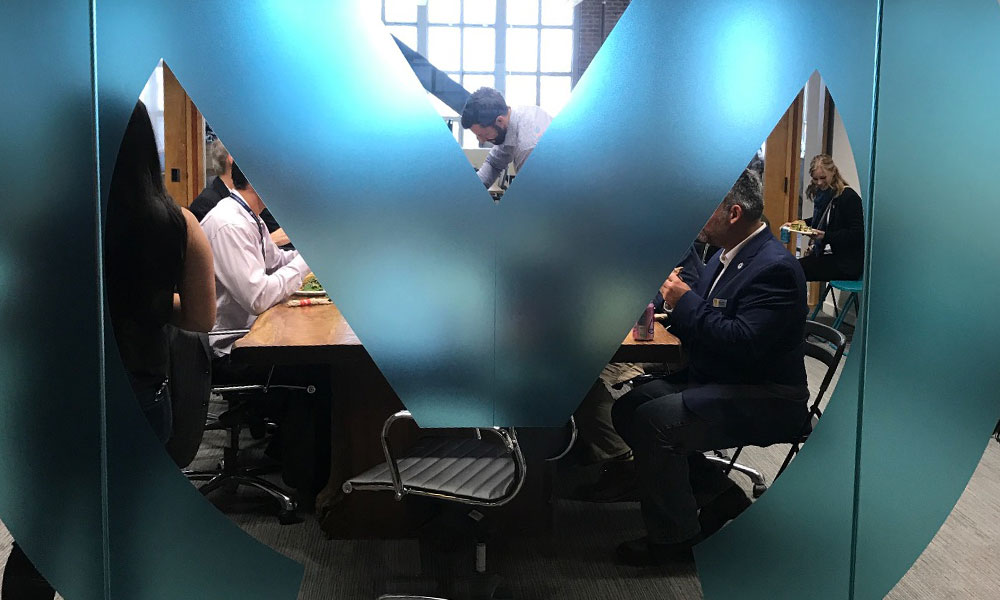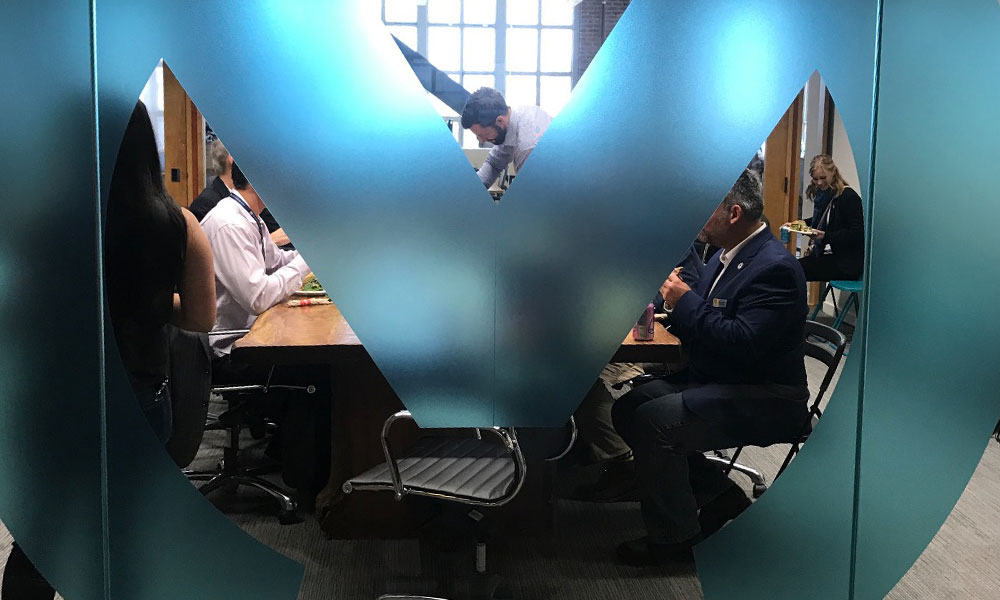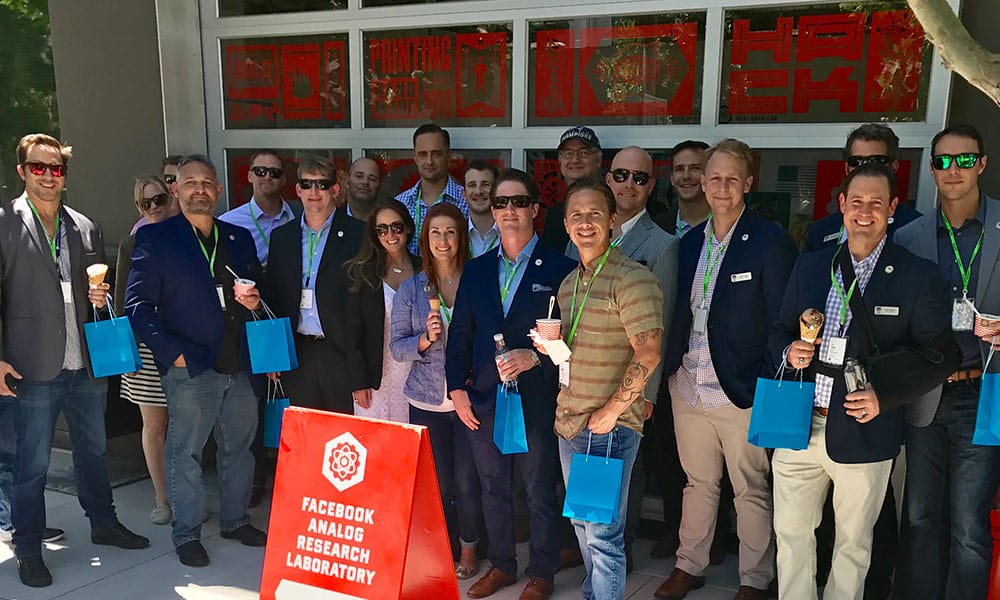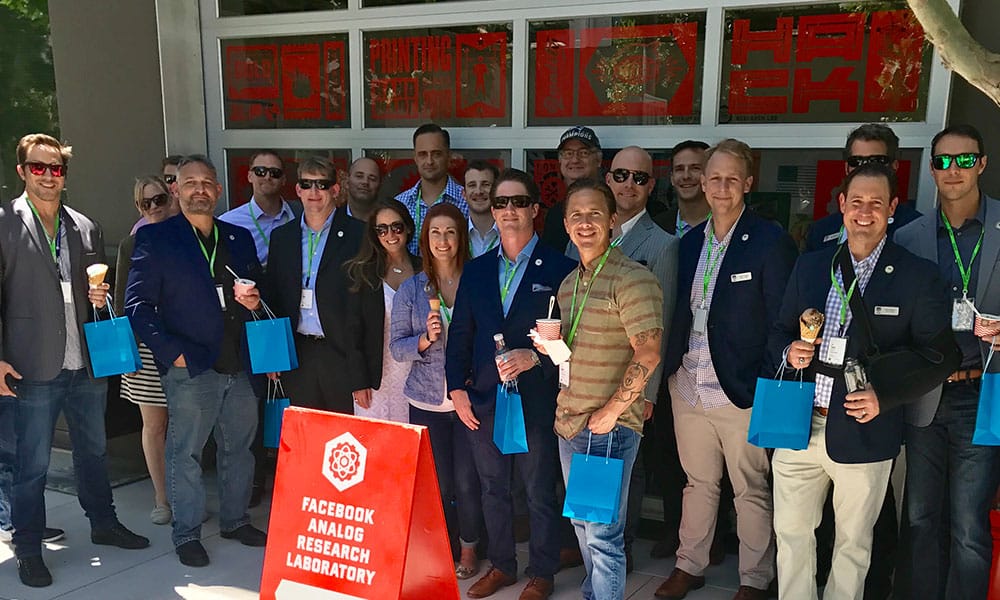 ---
Fellow Spotlights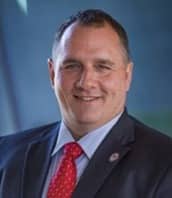 THF knows we're on the right track, when one of our earliest Employer Partners comes back for more talent like CWO3 Jim Byrnes, US Navy SEAL. Jim has taken the helm of Envision Solar as their Director of Sales and Business Development. This is yet another great, local success story of flexing Special Operations values and skills to take a growth-oriented, disruptive and innovative organization to the next level. Throughout the process, Jim continued to remark about the culture alignment in leadership and values between himself, the CEO, and everyone he met in their recruiting process. For THF, we know that's the biggest ingredient for success.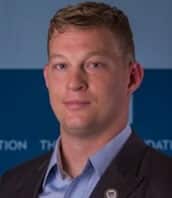 Curtis Lloyd is a former Navy SEAL officer who took his ability to solve complex problems and implement efficient strategies to become the Operations Manager at Uber, a position they created specifically for him once they had an opportunity to speak with him and see the value in his elite skill set that he brought to their organization.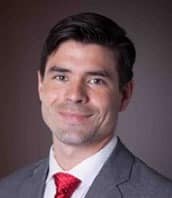 MAJ Philip Gilreath, USMC member of the elite Raider community was nearing the end of Group 9 and rapidly approaching his EAOS. With his need to remain in the San Diego area, we had three weeks to activate the THF network, including providing his resume to over 100 key leaders in the Southern California area. Much like most of our Fellows, Phil was seeking a culture defined with agility, innovation and disruption, leadership that firmly believe in the power of people, and a flat and nimble team. We found just that, through a former relationship established in 2016's Bay Area Trek to Gusto. One of the key leaders had moved to Clutter, headquartered out of LA, and stayed in touch with THF staff. He reached out and after having met several fellows last year, knew that he needed SpecOps leaders at Clutter. Clutter is the synthesis of manpower and technology to provide a rapid and organized solution to storage for any item under the sun. Phil tackled their challenging recruiting and assessment process, to be selected amongst hundreds of candidates as the Southern California Director of Operations. Now that Phil has "breached" such a unique and exciting organization, we know that many other Fellows will soon follow.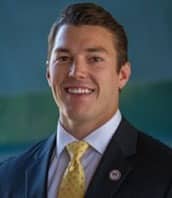 IS2 Dan Ramsden took a leap of faith with THF's focus on getting face-to-face networking as a means to learning and seeking out the best cultural alignment. With BodyWorn coming to town for the IACP, Dan saw a chance to learn more about their unique technology, and to meet with their leadership team. Immediately it was a match, and Dan has already started as their West Coast Business Manager. One of the many highlights of this story is that BodyWorn provided an incentive for Dan to continue and finish his ongoing Bachelor's degree.