Spotlight on BD
We're excited to introduce a new  feature to showcase our valued Employer Partners and the Alumni who are now part of their family.
These are companies and organizations who have hired men and women from our program and/or who have generously given us their time, resources and connections in an effort to help build a stronger network for our Fellows after service — a community post community. 
Q1 What advice do you have for those who are experiencing transition? 
RF:  The fear of the unknown was the hardest part of transition me. Once I mastered this fear and replaced it with excitement, I began to enjoy this time in my life. I began to look forward to what might be possible.
NB:  Start your transition at least 2 years from separating.  Utilize the DOD Skillbridge program to gain experience in whatever industry you are planning to work in.  That short stint of industry experience will make you a lot more competitive for Management level positions.  At the same time ensure you attend as many transitioning courses/programs (like THF) as possible. Start building your professional network early. Build relationships with professionals from every industry and every type of position you can think of, and always remember to be grateful and appreciative of everyone's time and willingness to help you.  Meeting people is easy, but establishing and sustaining relationships is hard work.
Q2 What experience shaped who you are?
RF:  I spent 23 years of my life serving in the Special Operations Forces (SOF) community, US Navy SEAL Teams. I have had countless positive and negative experiences that have contributed to who I am today. The most influential experience by far is building lifelong friendships in a purpose driven community of likeminded warriors. My transition into corporate America has in large part been so successful because of my continued friendships and connections within the SOF community.  In turn have found myself looking for ways to help fellow veterans find similar success in their transitions.
NB:  My 20 years in the military, and more specifically my 16 years in Naval Special Warfare (NSW), where I deployed 7 times.  During that time I learned what adversity means, witnessed amazing (and not so amazing) leadership, and how critical effective communication is.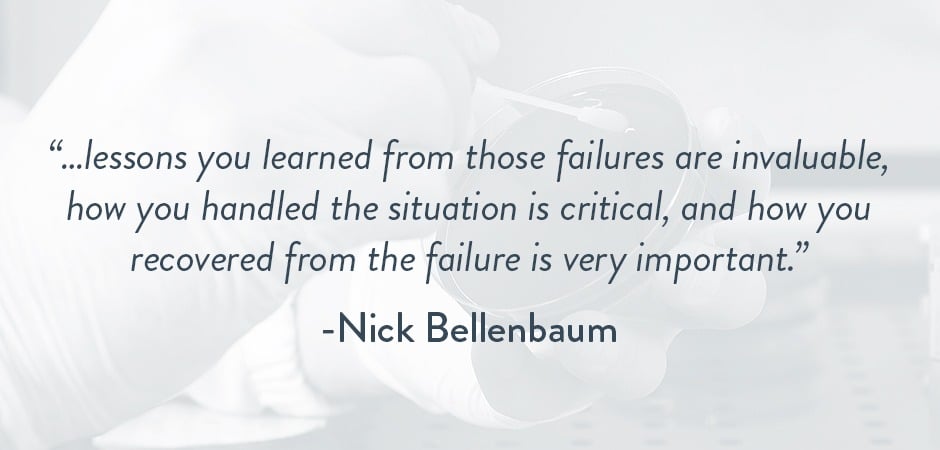 Q3 What is your favorite interview question?
RF:  How do you handle colleagues/teammates who are under performing or not meeting timelines? I reframe this question to ask, how can I lead my teammates in a way that brings out their best and helps them see the larger objective? I have found that most people are not under performing rather they are over tasked by multiple competing objectives. I work in a highly matrixed environment and I have found that my teammates are often balancing multiple competing demands for their time. It is my job to see the big picture and understand what is driving my teammate's performance.  I then work to de-conflict competing objectives while doing my best to understand their functional, operational, and personal demands.
NB:  Tell me a time where you failed or did not deliver as expected?  I love this question because everyone has a ton of these experiences (although you never hear about them) which initially sounds bad because failing is never the plan.  But, lessons you learned from those failures are invaluable, how you handled the situation is critical, and how you recovered from the failure is very important. These questions showcase vulnerability, accountability, and persistence.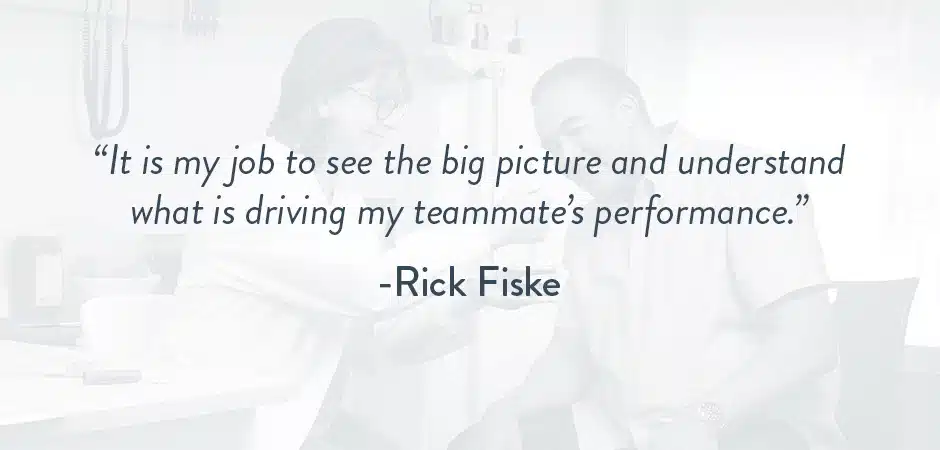 Q4 What are similarities did you find between your role at BD and your previous experience in the SOF community?
RF:  In my last SOF role I was the Current Operations Officer for all of the West Coast SEAL Teams. What we call operations in the SEAL Teams is similar to projects and programs at BD. In both roles I have been tasked with deploying mission-essential equipment and people to multiple global positions. In both roles I have spent weeks planning and preparing for projects that often face delays and unsurmountable obstacles but somehow still get accomplished.  In both roles I work in a highly matrixed environment. In both roles I am responsible for leading cross functional teams tasked to do more with less.
NB:  I found that communication, leadership, mentorship, people and time management are very similar.
Communication: In some aspects BD has better communication, and in others the military has better communication. Specifically, all the various electronic tools available at BD (Outlook, Skype messaging, Skype calls, internal social media, intranets, etc.) makes delivering information electronically easier.  The military is much better with face-to-face communication and messaging tasks, goals, and objectives in a more clear and direct way. Both face-to-face and electronic communication are important and I feel my communication abilities have increased because I now utilize both in my day to day work and communication with co-workers.
Leadership/ Mentorship: My co-workers at BD are very intelligent and motivated.  They are quick to identify improvement opportunities and create plans and processes to address those opportunities.  Where I feel improvements can be made, and what veterans can bring to the table is organizing available resources, clarifying objectives, prioritizing tasks, and finishing projects.  For the most part, we (veterans) are quick to step up and ensure everyone is aligned and working towards the same goals.  I tribute these abilities to the leadership experience we gain through the military. BD and the military both have very similar career development tools, employee evaluations, and mentor type of programs. ·
Management: Managing people, time, and resources at BD is very similar as in the military.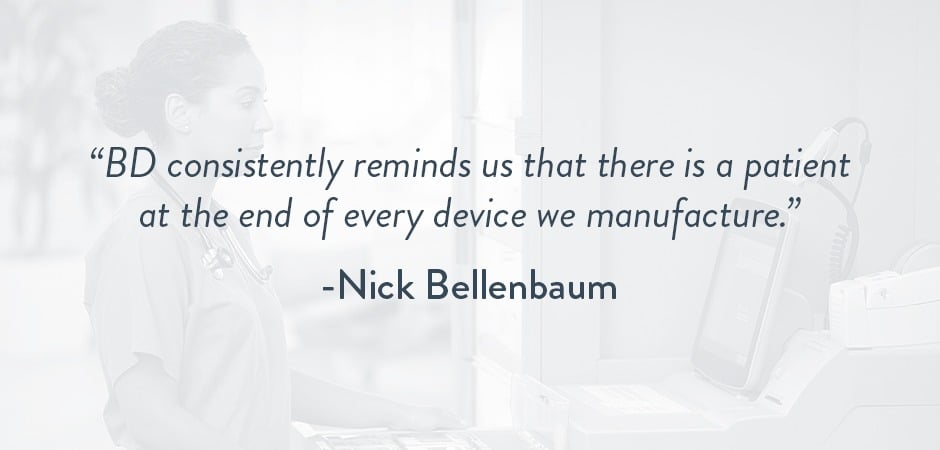 Q5 What makes the culture at your company special? 
RF:  I have found that BD associates reflect the BD core values: we are humble, sincere, transparent, and explicit in our intentions. At the end of the day the work we do at BD is advancing the world of health. It is easy to remember that those patients are often beloved family members.
NB:  The part of BD's culture that stands out most to me is the emphasis on the patient.  It is easy to get wrapped around productivity, cost savings, and revenue in a large company, but BD consistently reminds us that there is a patient at the end of every device we manufacture.  Our veterans program (VETS ARG), which has been re-launched within the last year has gained a lot of momentum and is really putting emphasis on giving back to our Veterans internally within our company, and externally within the community.
Q6 What question are you asked more than any other?
RF:  How do you lead people with more industry experience than you? My answer is always be humble, ask lots of questions and complement often.
NB:  Was the transition from the military to the corporate world hard? Specifically "how do you go from an operational SEAL to a corporate employee?" My response is "I purposely found a role in the Healthcare space because although I am not the one creating medical devices or in a lab developing cures for diseases, what I am doing is contributing to saving lives and helping people." I also respond that "The leadership and communication experience we gained through the military can be applied anywhere, especially in corporate America."
Q7 What drives you everyday? 
RF:  I am responsible for deploying cutting edge medication management solutions to over 100 global Military Treatment Facilities (MTFs). I am driven every day to provide the military exceptional management solutions that decrease pharmacy medication cost, decrease medication diversion, and greatly improve patient safety.  Ultimately, I am proud to be able to help positively impact the health care conditions of active duty and retired members of the military, along with their dependents.
NB:  Leading and helping teams that are making an impact, and empowering those teams with a clear path to crush their objectives.  I love communicating and removing roadblocks, and knowing the team trusts me to provide top cover for them.
Q8 What book do you find most valuable? 
NB:  I find myself reviewing the Project Management Body of Knowledge (PMBOK) pretty often, on a personal level I like reviewing Simon Sinek's "Start with Why."  I love the concept of identifying your "Why" statement and having that guide your journey for meaningful employment. Thank you to The Honor Foundation for introducing me to this book and TED Talk.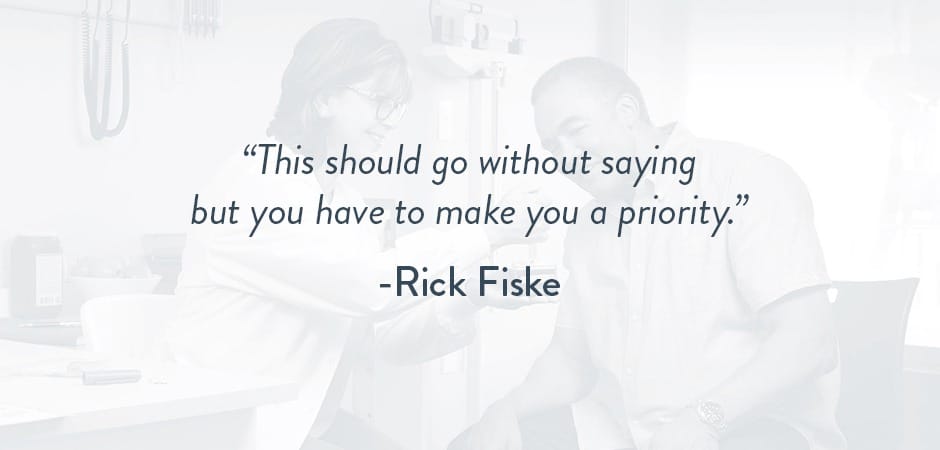 Q9 What is a lesson you learned the hard way?
RF:  I regret not taking my health as seriously as I should have, during my transition to corporate America.  I took my health for granted by allowing work and family to take higher priority. About a year ago I hit a low point in my health that scared me into change. I have since made major improvement to my health by guarding my sleep, managing nutrition and exercising daily. This should go without saying but you have to make you a priority.
NB:  I've learned that over the last 18 months that Corporate America places a heavy emphasis on industry and technical experience, in some cases more so than leadership, management and communication experience.  Once someone has a "foot in the door" their leadership and communication experience can then quickly be used to identify them as a high potential, high performing associate, but even so, managers can still be hesitant to give veterans management opportunities without extensive functional experience performing the job duties of the role.
Q10 What defines a leader? 
RF:  A leader listens first, asks questions often and brings out the best in people. A leader's optimism is contagious even in the worst situations.
NB:  A leader is someone who puts their people first.  They communicate expectations, goals, and objectives clearly.  They inspire people through accountability, empowerment, trust, and their own actions.
Q11 What is your favorite quote? 
RF:  "The quality of a person's life is in direct proportion to their commitment to excellence, regardless of their chosen field of endeavor." Vince Lombardi
NB:  Be a good dude (Nick Bellenbaum)