Spotlight on Arclight
We're excited to introduce another valued Employer Partner of The Honor Foundation and an Alumni who is now part of their family.
These are companies and organizations who have hired men and women from our program and/or who have generously given us their time, resources and connections in an effort to help build a stronger network for our Fellows after service — a community post community.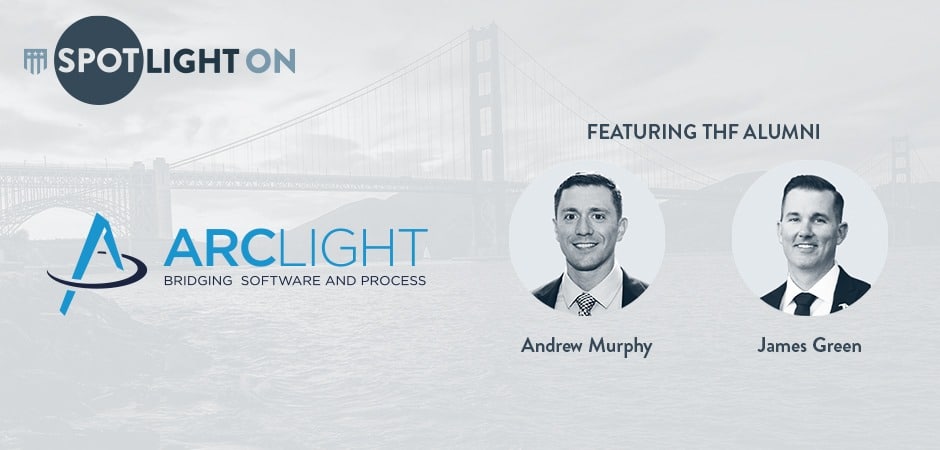 Q1 What advice do you have for those who are experiencing transition?
James Green:  You must take advantage of every resource available to you and your family during this time in your life.  I encourage you all to make networking your new hobby and spend 99.9% of your time networking outside the military. 
Andrew Murphy:  If you don't already have one, get a degree now!  Talk to as many people as possible from as many different industries as possible.  Decide what is important to you (location, role, industry, company, etc) and prioritize.  Deciding what you want to do can be more difficult than landing a job.  Utilize the resources available.  THF was the first and most impactful resource I took advantage of, but there are many more and you are only limited by the amount of time that you can devote to each.  Finally, I would say get ahead of it early.  Transition is not typically something that sneaks up on you.  Prioritize your transition during the last 6-12 months of service time and be aggressive about it.
Jeff Eaton, Arclight:  List out what you enjoy and what excites you.  Research types of companies, roles, industries that fit that.  If you can do what you love it is not work.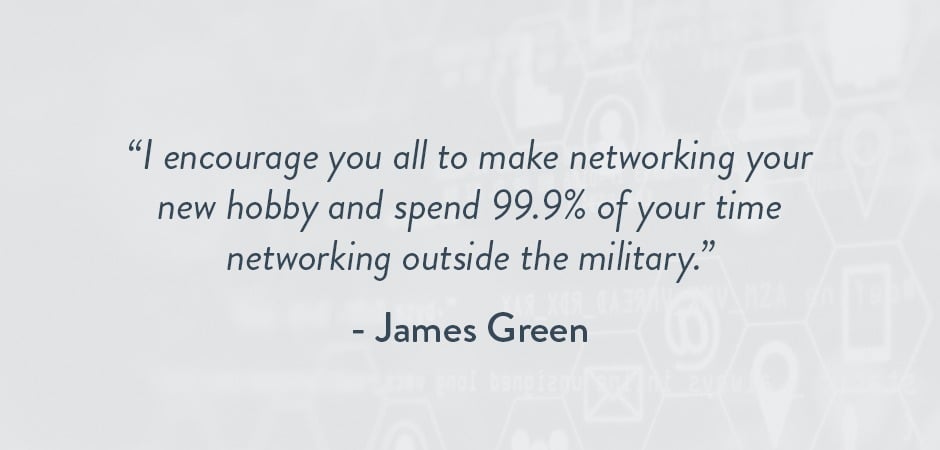 Q2 What experience shaped who you are?
JG:  The military and especially my time in special operations played a major part in shaping who I am today. Every leader I have had plays a part in who I am and who I will become. I strive to take a little from every leader I have served with and under. 
AM:  I don't know if there was any one experience that shaped who I am.  The culmination of experiences shaped who I am.  Although becoming a Marine and a Raider had definite impacts, I would say my family and the ongoing experience of being a father to two boys drives many of my actions.
JE:  The last 25 years.  I learned the value of hard work starting in college with working to pay for it.  After college I started at the bottom and had to work hard to advance and took every opportunity given to me no matter how much work it was going to be.  I took risks with changing careers, joining a startup, and the biggest of all being leaving a stable job to start ArcLight.   Through all this hard work was and is the key. 
Q3 What is your favorite interview question?
JG: Tell me about yourself. I like to use this time to tell my story. It is such a broad question that everyone should capitalize on the opportunity to make a connection with your interviewer. 
AM: My favorite interview question is "do you have any questions for me?"  Only because this means the interviewer is finished asking me anything and I can relax a little and learn more about the role and company.
JE: I have 2 depending on the role I'm interviewing for.  I like to have someone pick something they are an inexpert in and tell me everything they know about it; I'm looking to see how they can explain it to me if I'm not an expert.  I also like to know the last new thing the person learned; I'm looking to see the desire to learn new things.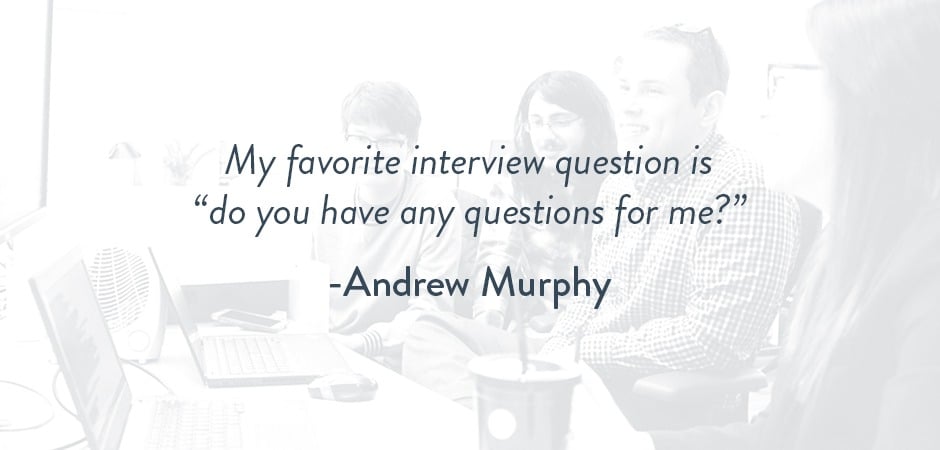 Q4 What similarities did you find between your role at Arclight and your previous experience in the SOF community?
JG:  As a Project Manager at ArcLight, you are constantly juggling multiple projects, clients, resources, and critical timelines. Just like in the SOF community, you need to be able to achieve the desired effects ranging from tactical to strategic. You are dealing with numerous complex issues daily that could have devastating effects internally and externally.  The leadership team is looking at you, the PM, to have the ability to understand the issue, decide, act on that decision, and ensure that a holistic approach was taken. You are the face of ArcLight to many of these big companies, just like when you are down range on a team. You have to get the job done while keeping the population happy, on the client side and internally, and continue to put food not only on your table but for everyone on the team. 
AM:  The role is completely different.  However, the teamwork that is embedded in the culture here at ArcLight is the first thing that comes to mind.  From my first day, I truly felt part of a team and consistently had people reaching out to offer any assistance I could use.
Q5 What makes the culture at your company special?
JG:  There are a couple of factors that make the culture at ArcLight special, one being the people. Everyone here has a passion and drive for their specific craft. Everyone continues to sharpen their skills and improve in areas they may have a deficit in. Second, is the support offered at every level within the company. Anyone and everyone is willing to support and help in every way, no matter what they might have going on in their personal lives. Having these key attributes within our company culture makes every day better no matter the situation around you. 
AM:  ArcLight's culture is special because the company is full of high performing individuals that have perfected a way to work together remotely.  Everyone from a new hire to the partners is willing and able to go the extra mile to help each other out or accomplish a task.  
JE:  Collaboration.  Everyone is willing to help each other and put others first.
Q6 What question are you asked more than any other?
JG:  As a PM the one question that I get asked multiple times a week is "Am I sure this timeline is correct?"
JE:  What would you do?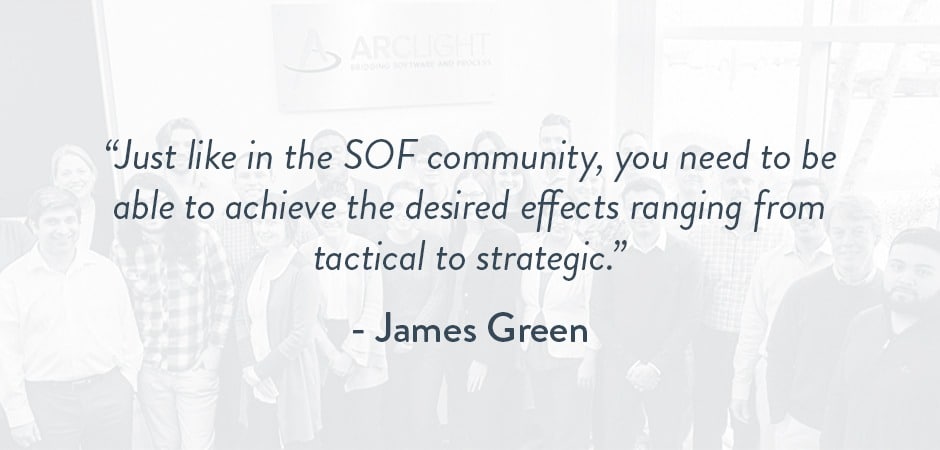 Q7 What drives you every day?
JG:  The want to constantly improve myself and to give back to those around me. I strive to help someone daily through a hard time or a situation they may be stuck on or going through. Unless you live in a silo alone, the chances of you encountering someone in need of support or maybe just guidance is extremely high. Whether that is someone you have contact with daily or maybe someone you only interact with for a brief moment. I want to make that person's day just a little easier and support them in any way I can. 
AM:  My family drives me every day.  Outside of the necessity to provide for them, my aim is to instill an attitude of always trying to achieve more and work harder.  I cannot do that by working 9-5 and then sitting on the couch for the rest of the day.
JE:  To deliver our best to our customers.
Q8 What book do you find most valuable?
JG:  Well, first, would be Start With Why by Simon Sinek. This book was introduced to me during my cohort at The Honor Foundation. The ability to understand the "why" first has changed the way I view almost everything I do now. The other two books that I find extremely valuable are Extreme Ownership by Jocko Willink and Leif Babin and Leaders Eat Last by Simon Sinek. These are books for everyone, no matter where you are in life or your career. 
AM:  There are many books out there for determining a career path or industry, but once I had an idea of what I wanted to do, I found The 2-Hour Job Search by Steve Dalton to be extremely beneficial.  The book breaks down an extremely efficient method of tracking companies of interest, who and how to reach out to people, what to talk about, etc.  It is a very quick read and would be my recommendation for a book every transitioning service member should pick up.
JE:  Shoe Dog by Phil Knight.  In the early startup years of ArcLight I read this and was inspired that success does not happen overnight and it is a messy chaotic journey to embrace.
Q9 What is a lesson you learned the hard way?
JG:  That not all leaders are true leaders. I have seen a lot of "leaders" holding a title that put them into that position. This is especially true in the military where a rank is what makes you a leader in many ways. Trusting that those leaders have the team's best interest in mind even when you watch them daily make decisions that only benefit that individual down the line and continues to segregate the team members. The lesson I learned is that a title, rank, birth, or anything such as that does not make you a leader. There are "leaders" out there who are only looking out for themselves and are only looking out for the team enough to get them to the next level. 
JE:  Success does not come easy or overnight.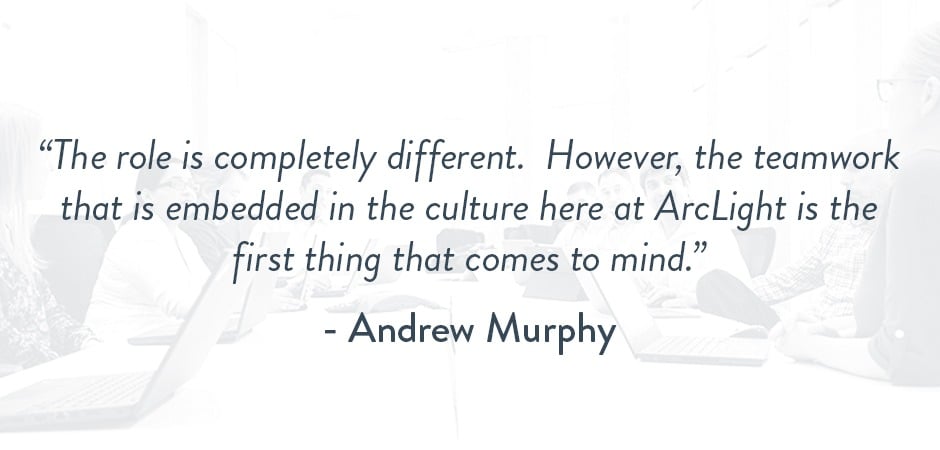 Q10 What defines a leader?
JG:  A leader is someone who spends their day doing whatever is necessary to make the team successful. They spend the time understanding their team members so that they can always support them to the utmost. Leadership is not a 9 to 5 or a switch that gets turned on when you go to work. A true leader practices the art of leadership constantly with no breaks and continues to refine the craft. Leadership is not something that can be mastered. It is an ever-evolving art that changes from day to day, year to year, and person to person. No one approach to leadership will fit every whole. The way a person leads daily must also evolve with each meeting, encounter, and issue.  
AM:  A leader is willing to put everything on the line for their people.  They provide top cover while giving others the opportunity to strive.  They articulate a goal or vision and can motivate others toward that goal.  Finally, a leader holds others accountable while also showing empathy and looking at situations from a different angle.
JE:  A leader is someone that can inspire and provide guidance to those around them to meet business objectives.
Q11 What is your favorite quote?
JG:  "You can either experience the pain of discipline or the pain of regret. The choice is yours." — Unknown 
JE:  "Whether you think you can, or you think you can't – you're right." — Henry Ford
Q12 What unanticipated skills, talent, and/or competencies did you gain for employing Special Operators at your organization?
JE:  Learn the job quickly for the team's and companies benefit, can be counted on in good and hard times to get the job done, and understands team above self. 
Julie Bowers, Arclight:  With having both James and Andrew on board now, I knew that I could expect teamwork from both of them.  I was not prepared for how quickly they adapted to the ArcLight way of going about things and understanding the product they are supporting.  They are quick to get up to speed, not afraid to ask for help or guidance, are always giving 100% and looking for ways to improve what they are doing.