RECAP: THF "A Toast to Veterans" Virtual Live Stream Event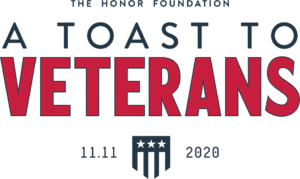 PRESS RELEASE
12 November 2020
The Honor Foundation Gathered Senior Military Leaders, Medal of Honor Recipients, Simon Sinek, for Nationwide Tribute to Veterans
Wednesday, November 11, 2020 – The Honor Foundation (THF), a unique transition institute that serves the U.S. Special Operations community, hosted a nationwide live virtual event, A Toast to Veterans, with Presenting Sponsor Morgan Stanley, in celebration of all U.S. Veterans on Veterans Day. The event offered an opportunity for our country to unite in patriotism and in appreciation of the service of all Veterans.
The event kicked off with a special rendition of "Old Glory" by Evangelo Morris and featured a range of senior military officials, Medal of Honor recipients, a bestselling author, THF leadership and alumni to provide remarks to our nation's veterans. Distinguished speakers included ADM William McRaven (USN, RET), LTG Mike Nagata (USA, RET), Lt Gen Tom Trask (USAF, RET), MajGen Frank Donovan (USMC), Simon Sinek, Optimist and bestselling author, Medal of Honor recipients Britt Slabinski and Florent Groberg, The Honor Foundation CEO, Matt Stevens, and Navy SEAL Foundation CEO, Robin King.
The virtual live stream celebrated the extraordinary men and women who have given and continue to give their lives in service of our country. It was an evening filled with patriotism, inspiration and heartfelt remarks. Speakers described a warrior's path from joining the military, to active duty experiences, transitioning out of the military and the value of veterans to our country and society post-uniform. The program closed with notable groups such as the LAPD and Boston Bruins paying tribute to all veterans across the country.
Vince Lumia, Head of Field Management for Morgan Stanley, the Presenting Sponsor of the virtual event, shared his tribute during the program.
"We proudly recognize the service of our military veterans, reservists and those on active duty," said Lumia. "It's been a privilege to partner with The Honor Foundation which put together a phenomenal program featuring leaders from our military branches to discuss their careers, the lives of veterans, their importance to our society, and the challenges faced while transitioning to a civilian life and potential solutions."
Matt Stevens, CEO of The Honor Foundation, added: "As a Veteran led organization and a Veteran myself, The Honor Foundation wanted to pay tribute to our nation's service members with this unique virtual event featuring esteemed speakers, guests and our Alumni. With the support of our Presenting Sponsor, Morgan Stanley, all the supporting sponsors and everyone who had purchased tickets and donated, we are  proud of its inaugural event and look forward to another one next year.
The mission of THF is to help transitioning members of the Special Operations Forces community prepare for their next career after service. We are grateful for the partnerships and continued support of the Navy SEAL foundation, our Founding Partner, PayPal, Wounded Warrior Project, Carrington Charitable Foundation, our donors and all THF Tribes who provide us the opportunity to continue impacting the lives of our nation's veterans."
Proceeds from the event benefitted The Honor Foundation's program to help veterans transition out of uniform and apply their skills, work ethic and leadership to the private sector.
###
For more information about this press release, please contact Kathy Leming at kathy@honor.org.
About The Honor Foundation
The Honor Foundation (THF) has developed a world-class transition institute for the U.S. Special Operations Forces community that, through a three-month program, provides tailored executive education, one-on-one coaching, and access to a nationwide professional network. This program was built by the desire to serve others with honor for life so that their next mission is always clear and continues to impact the world. We do this by providing the tools that maximize our fellows' potential and prepares them to succeed on their own. The Honor Foundation has campuses in San Diego, CA, Virginia Beach, VA, Camp Lejeune, NC (serving the Marine Raider community), and a virtual campus. The Navy SEAL Foundation is a Founding Fartner of The Honor Foundation.
###