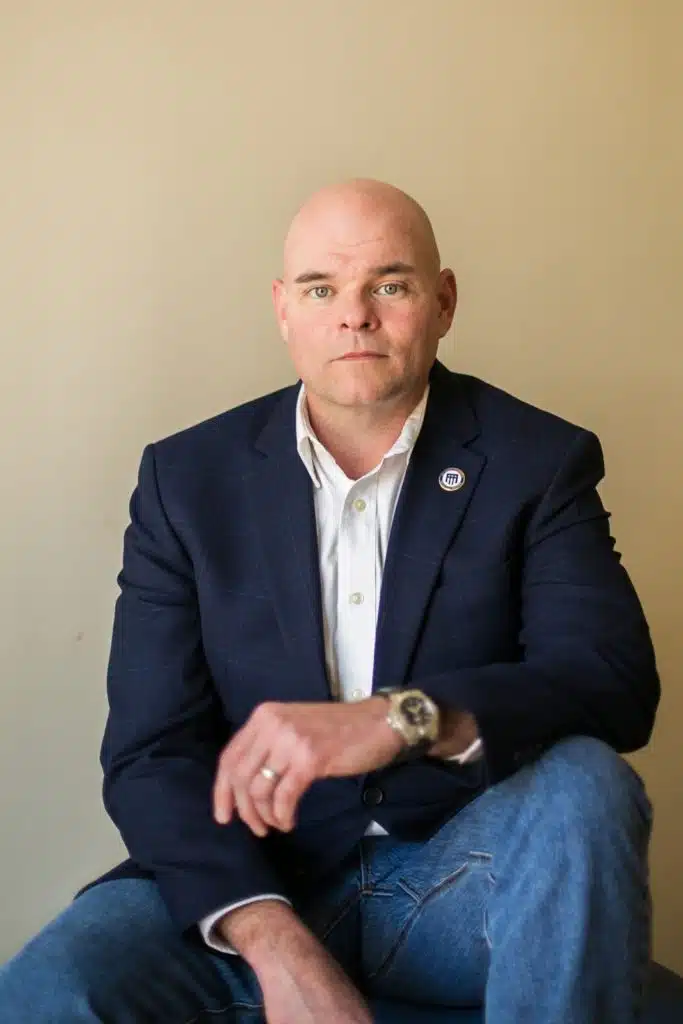 Mark George (Wilmington)
Mark P. George was born in Dothan, Alabama on 14 June 1976 and grew up in Panama City, Florida.  In 1999, graduated Florida State University with a B.S. degree in Finance and Real Estate, LtCol George was commissioned through the Officer Candidate Course and in August reported to The Basic School.
July 2000, after graduating Combat Engineers Officer's Course, LtCol George was assigned to 8th Engineer Support Battalion, Camp Lejeune, NC. Immediately upon check-in he was reassigned to Weapons Training Battalion for duty as a range officer as a part of the Fleet Assistance Program.
In February 2001, LtCol George returned to 8th Engineer Support Battalion where he held multiple billets to include Platoon Commander, Assistant Logistics Officer and Company Executive Officer. He participated in multiple Joint Task Force Six deployments to Las Vegas, New Mexico and Tampa, Florida. He deployed to Trinidad, Bolivia as the Assistant Officer in Charge and Demolitions Instructor for Riverine Training Team 4-01.
From January to May 2003, LtCol George deployed to Kuwait and Iraq in support of Operation Iraqi Freedom.  July 2003, LtCol George was transferred to II Marine Expeditionary Force, Special Operations Training Group, Camp Lejeune, NC for duty as the Officer in Charge of Small Craft Training Branch, International Training Branch, Non-Lethal Weapons Training Branch and as Assistant Operations Officer. During his tenure with SOTG, he made numerous deployments as Assistant Officer in Charge and Officer in Charge of Riverine Training Teams and Landing Attack and Subsequent Operation Teams throughout Colombia and Bolivia.
From July 2006 until May 2007, LtCol George attended Expeditionary Warfare School (EWS) Quantico, Va. Upon completion of EWS, LtCol George was assigned to the Jungle Warfare Training Center, 3d Marine Division where he served as Assistant Officer-in-Charge, Officer-in-Charge as well as Camp Commander for Camp Gonsalves until May 2008.
 From May 2008 to Jun 2011, LtCol George served with Marine Special Operations Command (MARSOC) and deployed to Afghanistan with the Combined Joint Special Operations Task Force Afghanistan in 2009. LtCol George served in multiple billets while at MARSOC, ultimately as Commander, Headquarters Company, Marine Special Operations Command Support Group. LtCol George served as the Operations Officer and Executive Officer, 2d Combat Engineer Battalion, from July 2012 to Jul 2015 and deployed in support of Operation Enduring Freedom 12.2.  From Jul of 2015 to Jul 2017, LtCol George served as the OIC for the Defeat the Device Branch, Marine Corps Engineer School.  LtCol George most recently served as the Operations then Executive Officer for the Marine Raider Support Group, Marine Special Operations Command.
LtCol George is a graduate of the Basic Airborne Course, High Risk Personnel Course, Surveillance Detection/Evasive Driving Course at the Bill Scott Raceway, Expeditionary Warfare School, and Marine Special Operations Advisor Course, Class 1-08, and the Army's Command and General Staff College. His personal decorations include the Meritorious Service Medal w/ 2 Gold Stars, Joint Commendation Medal, Navy and Marine Corps Commendation Medal w/ Gold Star, the Navy and Marine Corps Achievement Medal with Gold Star, and the Combat Action Ribbon. He retired for active duty 31 Dec 19.  In Jan of 2020, he took a position as a Regional Vice President with nCino – the worldwide leader in cloud banking.
< Return >