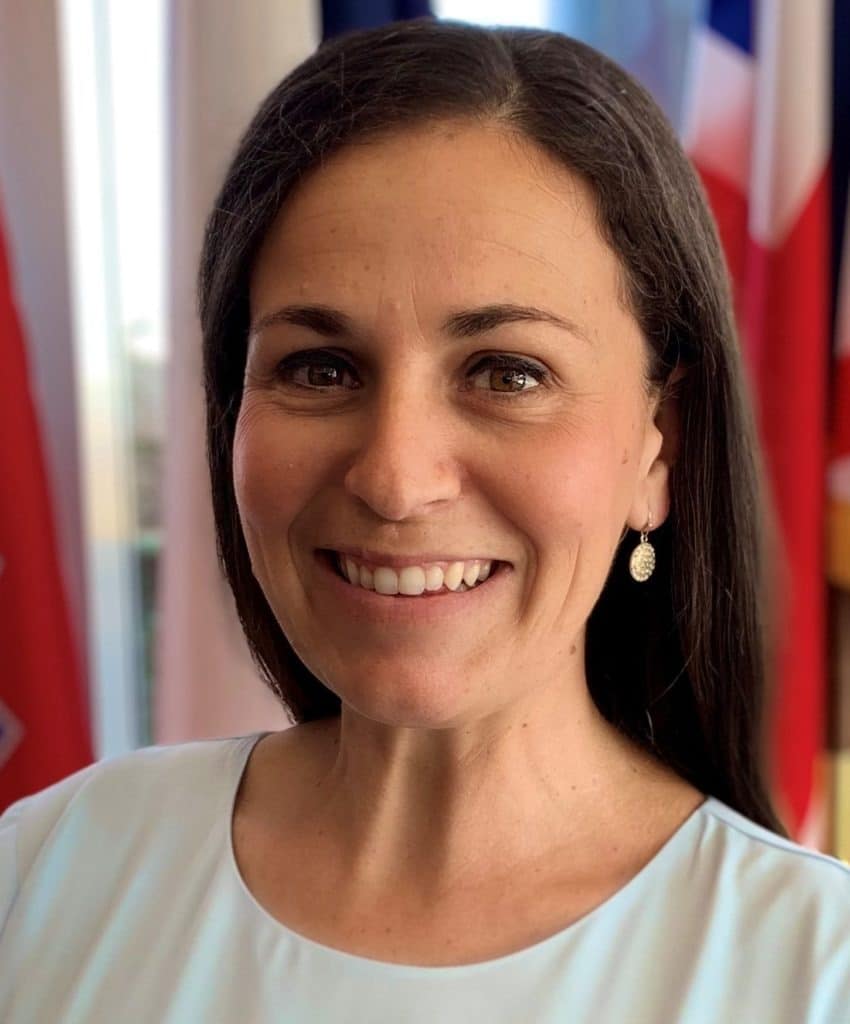 Lindsay Cashin, Vice President of People
Name:  Lindsay Cashin
Where were you born and raised?
I was born and raised in Huntington, New York.
What's a short story around the biggest transition you've faced in life?
The biggest transition I have faced in my life was moving to Southern California from New York City. One day I was working for a PR firm in Manhattan, riding the subway and hearing the white noise of the city, and the next, I was listening to waves crash on the shores of Carlsbad, California.  All the comforts and security of my life in New York were gone.  I found myself needing to navigate this change with no family and friends within 3,000 miles.  I had to find my new normal because less than two months after getting married, my husband deployed.  I had to find a job, meet new people, try new things, and find my way in a culture much different than the fast-paced life of New York City I was used to.   I had no choice but to be brave and resilient.  That transition made me recognize that I must always anticipate change and welcome it.  Some paths may be unclear at first glance, but over time, the path appears and you find your way.
What's the once piece of advice you'd give a younger you?
One piece of advice I would give would be to be brave and welcome change; then celebrate and embrace the experiences your life provides you.  You will continually develop your skills and intelligence through positive and negative times- everything is a learning moment, but always share your story with others.  Your words may guide them on their journey.  And also, take golf lessons.  It is an invaluable skill.
Your Personal Why?
I suspect the path of my Why is continually evolving, but my personal Why has been centered around my passion to positively influence and impact the lives of others. I began my career in the classroom as a teacher, and although I have navigated the private sector as a Human Resources professional, my roles have always remained as a teacher.  I foster positive relationships to help others acquire knowledge, skills, and strengthen abilities; ensuring they have the right tools to succeed.
How does your Why drive you to be a part of the THF Ecosystem?
From my vast knowledge of the skills and abilities those serving within the profession of arms possess, to my direct private sector experiences in HR, being part of the THF Ecosystem is where I can best serve. Not only does THF allow for me to positively impact the lives of SOF community members while they navigate their transition, but together with the entire THF team, I can work towards increasing a private sector's understanding of this incredible talent pool.
Military Connection or Why do you respect Special Operators?
I am the proud wife of a United States Marine, who currently serves in Special Operations and a by-product of that has become a community of close friends and neighbors. I see and experience first-hand the sacrifices these brave men and women who serve the SOF community make on a daily basis and it is inspiring.  Their commitment to the shared values of the SOF community, and their dedication to the mission represent the epitome of the caliber of individuals serving our great nation.
Favorite THF Value, and why?
While all of the values resonate with me, I think Exemplify Trust is my favorite.  The simple truth is that trust is the foundation for any relationship to be successful.  When I look at the values and principles guiding THF, I recognize that trust is needed for all our values to be modeled daily.  And as we seek to uphold our guiding principles, trust in ourselves and trust in others, guides our behaviors and performance.
Area/Industry of expertise
I have always had a passion for working with and for an organization's most valuable resource- its people.  My career in Human Resources, regardless of industry, has provided a platform to serve others- to inspire and equip individuals to maximize their potential, from entry to executive level.
< Return >