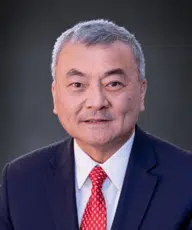 Lieutenant General (ret) Michael K. Nagata
Mike Nagata retired from the US Army in 2019 after 38 years of Active Duty, with 34 years in US Special Operations. His final government position was Director of Strategic Operational Planning for the National Counterterrorism Center from 2016 to 2019. He is today a Strategic Advisor & Senior Vice President for CACI International, and is the owner of Hanada Bridge, LLC.
A native of Virginia, he graduated from Georgia State University, and first enlisted in the US Army as an Infantry Private, later receiving his Commission as an Infantry Officer in 1982 from the US Army Officer Candidate School.
As an Officer, he initially served as a Platoon Leader in the 2nd Infantry Division before volunteering for Army Special Forces in 1984. In Special Forces, he served a variety of command or staff positions.
In 1990, he was selected for a Special Mission Unit, and deployed extensively over several assignments there on both contingency and combat operations.
From 1999 to 2000, he commanded the Army's Special Forces Qualification Course. In 2000, he returned to a Special Mission Unit as a Squadron Commander, and later was involved in the initial combat deployments after the 9/11 attacks.
After graduating from the National War College in 2003, he served for 2 years in the Office of the Undersecretary of Defense for Intelligence. From 2005 to 2008, as a Special Mission Unit commander, he led multiple Joint SOF task forces across more than a dozen countries in Africa, the Middle East, and Southeast Asia.
He then served within the US Intelligence Community in Washington D.C. as a Military Deputy for Counterterrorism until 2009. He then deployed again until late 2011 to Pakistan as the Deputy Chief, Office of the Defense Representative at the US Embassy there. Upon returning to the US, he served on the Joint Staff as the Deputy Director for Special Operations and Counterterrorism until 2013.
He then assumed command of US Special Operations Command-Central, and was responsible for Special Operations across the Central Command region from 2013 to 2015, and was heavily involved in the first two years of combat operations against the Islamic State in Iraq, Syria, and elsewhere.
LTG (R) Nagata is a graduate of the Infantry Officer Basic and Advanced Courses, the Special Forces Qualification Course, the United States Marine Corps Command and Staff College, and the National War College in Washington D.C.
He and his wife Barbara have five children, and one granddaughter, who are the lights of their lives.
< Return >