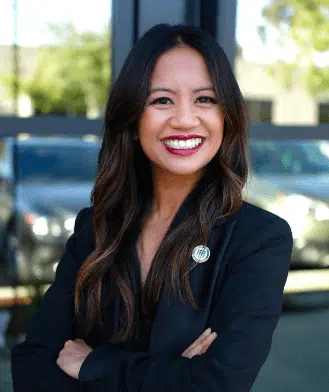 Kathy Leming, Director of Marketing & Communications
Name:  Katherine Leming
Where were you born and raised?
Born in Panorama City, CA and raised in Santa Clarita, CA — I've always been a California girl!
What's a short story around the biggest transition you've faced in life?
After spending numerous years in the publishing and beauty industries, and a committed volunteer to several San Diego-based charities, I found myself wanting to shift my energy to a full-time position at a local nonprofit to impact others on a greater scale. Transitioning from a for-profit to a for-purpose career was one of the biggest, and best, changes in my life.
What's the once piece of advice you'd give a younger you?
Live your life with grit, valor and heart.
Top 5 Strengths Finder Strengths and how they influence you?
Achiever / Individualization / Learner / Belief / Relator
Aside from my drive to execute both short term and long term goals, I greatly value the building of relationships and the understanding of others' perspectives. I do my best to lead with empathy and remember the saying, "seek first to understand, then to be understood."
Your Personal Why:
To be compassionate and listen wholeheartedly, so that others feel embraced.
How does your Why drive you to be a part of the THF Ecosystem? 
Our Fellows, alumni, coaches, donors, mentors — our Tribes of Support, the THF team and all those who come in contact with the mission, are significant to the organization and the Special Operations community we serve. Listening to stories, comments, questions and feedback are all being heard and respected.
Military Connection or Why do you respect Special Operators?
Though I do not have any family members or close friends in the military, residing in San Diego and being surrounded by the individuals who have or are currently serving, it is impossible for me to ignore the great impact that their lives and choices have on us. Every time I am near a radio at 8:00 a.m, I take a moment to listen to the National Anthem on 103.7 KSON-FM and every year I write 100+ cards to the Red Cross for their "Holiday Mail for Heroes" program. It's the very least I can do.
Favorite THF Value, and why?
Create Experiences! To me, life is about exploration and curiosity- asking questions, listening to stories, learning from experiences and adapting to change. Every day is different and with challenges, brings excitement.
Area/Industry of expertise:
Operations // Marketing & Communications. Being a part of a small (but mighty) team, I'm incredibly lucky to provide support to all departments at THF — having multiple perspectives on the organization and interacting with so many talented individuals. With that in mind, project completion, time organization and experience in marketing, event planning, outreach and relationship management are essential to the position.
Contact Kathy directly at kathy@honor.org.
< Return >