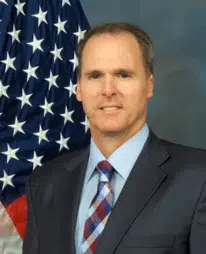 Jeffrey Wright
Jeffrey Wright hails from southern Oklahoma. Born into an Army family he was influenced by a variety of locales both stateside and abroad.  It was through his travels where he developed his since of adventure, appreciation for other cultures and an ear for foreign languages.  In 1984 Jeff joined the Army after high school as a light Infantryman.  His first duty assignment was with the Army's Honor Guard in our Nation's Capital followed by an assignment with the 82nd Airborne Division.  In 1989, Jeff led his squad during an airborne assault of Panama.  Later that year, he completed Special Forces Assessment and Selection and embarked in a career field that would span 28-years in SOF.
In 1990, Jeff was assigned to 3rd Special Forces Group.  He spent 10- years in the same company conducting numerous Foreign Internal Defense operations in Africa and deployed to Haiti during Operation UPHOLD/MAINTAIN DEMOCRACY.  In 1997, he led his detachment during Operation JOINT GUARD/FORGE in Mostar, Bosnia-Herzegovina.  In 2002, Jeff was promoted to Sergeant Major and in 2003 was appointed as Company Sergeant Major back in 3rd Special Forces Group.  He led his company through two deployments to Afghanistan and one to Iraq before serving as the senior NCO for the culminating exercise of the Special Forces Qualification Course, Robin Sage. In 2006, Jeff was selected as Battalion CSM in 7th Special Forces Group and served as SOTF-73 CSM in Afghanistan. In 2009, he was selected as Group CSM for 3rd Special Forces Group and served as CJSOTF CSM in Afghanistan.
In 2011, Jeff was selected for a Nominative Senior Enlisted position in Special Operations Command-Africa.  In 2012, he was given the opportunity to serve as the Senior Enlisted Advisor for the first-ever SOF Division-level Headquarters in combat. After a year assigned to the Special Operations Joint Task Force-Afghanistan, Jeff was appointed Command Sergeant Major of the Combined Arms Center and Fort Leavenworth, Kansas.  In 2014, Jeff was selected to serve as the 15th Senior Enlisted Advisor of the Joint Special Operations Command (JSOC) and his fourth Senior Enlisted Advisor assignment for a joint SOF command.  He retired from JSOC in April of 2017 completing 33 years of active service.
Since retirement, Jeff has worked as a contractor 1st Special Forces Command and USASOC.  When not working, he enjoys bike riding, reading, hanging out with his family and shooting.  Jeff has been married to his high school sweetheart for 31 years and they have twins, a boy and a girl.  Savannah is finishing her Nursing degree and Dakota is young Infantry 1LT in the Army.
< Return >