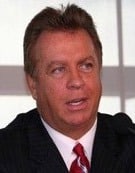 Harry Leonhardt
Harry J. Leonhardt, Esq. is a seasoned Business Executive and Corporate Lawyer, General Counsel and Chief Compliance Officer with over 35 years' experience in the pharmaceutical and biotechnology industries. Before relocating to San Diego, Mr. Leonhardt started his career as a patent litigator in Los Angeles specializing in complex intellectual property cases for clients like Genentech, Hybritech and Procter & Gamble. He then joined Allergan and served in a series of increasingly responsible positions including Chief Litigation Counsel and General Counsel for Allergan's European Region.  He then served as General Counsel for Nanogen, Genoptix and Senomyx, and as Senior Vice President-Legal, Chief Compliance Officer and member of the Executive Committee at Amylin Pharmaceuticals where he was instrumental in consummating the company's acquisition by Bristol Myers Squibb in 2012. Harry is currently serving as Senior Vice President, General Counsel & Corporate Secretary and a member of  the Executive Committee at Halozyme Therapeutics, Inc., a clinical stage oncology company headquartered in San Diego.
 Harry has served as a Special Master for the California State Bar for the past 25 years. He has provided policy guidance on IP and trade matters and was appointed to a Congressional Advisory Panel to the House Energy and Commerce Committee. In 2015, he served as an Arbitrator on a complex international biotech patent case before the International Centre for Dispute Resolution in New York. In 2009 he was named a  Daily Transcript "Transcript 10" Top Attorneys and was recognized as one of San Diego's Top Corporate Counsel in 2010 by the American Corporate Counsel Association.
 He serves as a Patron and Sustaining Member of the Pacific Council on International Policy and is a member of the National Security Committee of that organization. He serves as a legal observer at the ongoing trial of Khalid Shaikh Mohammed, mastermind of the 9/11 terrorist attacks, and five other high-value detainees in Guantanamo Bay, Cuba.  He is a member of the GTMO Task Force, whose mission is to monitor the GTMO proceedings to ensure compliance with the Military Commissions Act and to impact policy to assist in expediting and bringing greater visibility to the GTMO proceedings. Harry received his B. Sc. degree from The University of the Sciences in Philadelphia and his Juris Doctorate from the USC School of Law.
< Return >