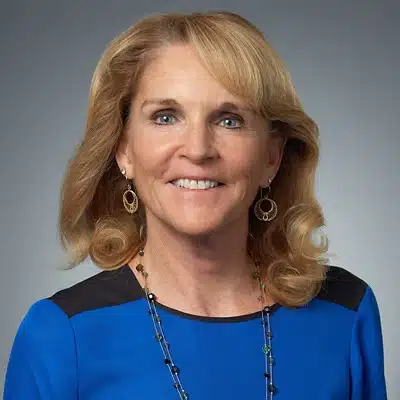 Susan Curtin
Name: Susan Curtin
Where were you born and raised?
Sherman Oaks, California
What's a short story around the biggest transition you've faced in life?
One of the transitions that relates to the Fellows journey, was leaving a job I loved in an organization I worked in for close to 20 years. I loved my work and the people I worked with who supported and valued my contributions to the organization. I left at the peak of my success to take on a new position in an organization that had tremendous challenges. This new position was created in hopes of fixing their problematic training organization. Going from the known and familiar to the unknown and often times unfamiliar was an unsettling time for me. I initially questioned if I had made the right decision but committed myself to take on the challenge and gain from the learning experience.
What's the once piece of advice you'd give a younger you?
To enjoy the journey and process as well as the achievement of the goal.
Your Personal Why?
To accelerate waves of influence so others can unveil their true brilliance having a positive ripple effect in the world.
How does your Why drive you to be a part of the THF Ecosystem?
The ability to accelerate the successful transition of those participating resulting in the best utilization of their talents, gifts and ultimately their career engagement.
Military Connection or Why do you respect Special Operators?
My Father, Son-in-law and nephew all served in the Marine Corps.
Favorite THF Value, and why?
Fierce Empathy "Empathy is about standing in someone else's shoes, feeling with his or her heart, seeing with his or her eyes." — Daniel Pink
I selected this value because I love the adjective "Fierce" describing Empathy and the added definition which captures the importance of preparing yourself to see the world through other lenses than your own. Empathy is the foundation for successful interpersonal relationships and ultimately builds trust in others. The focus on this value in THF builds that capability as they transition into their new roles and organizations.
Area/Industry of expertise:
Executive/Leadership/Career Coaching
Problems I solve:
I help leaders and high-potentials of established and growing
organizations to become more insightful and effective leaders by expanding their
executive/leadership presence, reducing their blind spots or fatal flaws and creating engaged strength-based work cultures.
Specialty areas:
Uncover, discover and activate the talents and strengths of individuals, teams and organizations to achieve measurable results by drawing upon over two decades of successful internal and external experience coaching, mentoring & developing managers and leaders. My coaching work has included leadership development, transition to the next stage of leadership, succession management including work on key competencies such as interpersonal savvy/EQ and political acumen. In addition, I help managers and leaders develop their teams and build their own capacity to coach their employees ensuring employee engagement utilizing the successful Managing4Results™ Program.
Education/Certifications
Master Corporate & Executive Coach, Association for Corporate & Executive Coaches
Board Certified Executive & Business Coach Credential, Center for Credentialing & Education
Certified Employee Assistance Professional
Marshall Goldsmith Stakeholder Centered Coaching Certification
Licensed HeartMath provider & Coach
Conversational Intelligence® (C-IQ) Certification
Certified in StrengthsFinder, Hogan Assessments, Meyers-Briggs Type Indicator, Everything DISC, Leadership Challenge LPI Assessment, The Five Behaviors of a Cohesive Team, Strengths Deployment Inventory, Thinking Pattern Profile, Interaction Management, EQ 2.0 and 360 Assessments
Master's degree in Counseling, San Diego State University, California
< Return >