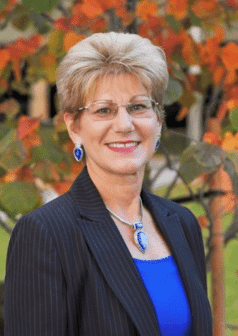 Nancy K. Eckert
Where were you born and raised?
I am a Midwesterner. I was born and raised in Wisconsin, attended college in Iowa and lived in the Minneapolis/St. Paul area for more than half of my life. Although weather was a factor in moving out of the Midwest, the main reasons were a career promotion and starting over after the death of my first husband.
What's a short story around the biggest transition you've faced in life?
Caring for a spouse dying from ALS, providing economically for my family, raising two young children, and juggling the numerous responsibilities associated with each, required immense stamina. However, emotionally dealing with a husband, father, and father-in-law dying within three months of each other and the fourth month moving to Dallas, Texas, required faith in addition to strength of character.
What's the one piece of advice you'd give a younger you?
My career has always been a significant part of my life and I am passionate about and teach others to "be yourself and do what you love". Paramount in every endeavor has been the underlying desire to help people live purposeful and authentic lives. I learned early that life is short and there isn't time to waste being disingenuous. My motto has always been "What you see is what you get". Some years ago I discovered it doesn't always require freely sharing your opinion!! My "mature self" is more emotionally intelligent and discerning.
Your Personal Why?
In 2015 I embarked on a two-month journey to seek clarity regarding my purpose for the next phase of life. Serving military personnel transitioning to civilian life became the clear message. How to embark on that mission has been a 'work in progress' and a 'leap of faith'. When a fellow Right Management Consultant told me about THF, I was intrigued and confident I had found a potential fit for my life's purpose, skills and passions.
How does your Why drive you to be a part of the THF Ecosystem?
My greatest strength is the ability to connect with diverse and multi-generational individuals, building strong relationships at all levels of an organization. In addition, living in Wisconsin, Iowa, Mexico, Minnesota, Texas, North Carolina, Washington DC, Maryland, Virginia and my final destination, California, has provided a rich tapestry of cultural differences.
Military Connection or Why do you respect Special Operators?
My second husband was an officer and her step-son is currently active in the Air Force, I volunteer with a Military Wives' Group that serves predominantly Marines, and my brother served in Viet Nam with the Army. What better next step than to coach Navy SEALs?
Favorite THF Value, and why?
The favorite THF Value of mine is "Prepare for Adventure". I love learning and connecting seemingly unrelated criteria to develop a career plan of action that reveals a person's true self and capabilities. My empathy, sense of humor and practical, yet sensitive approach creates an environment of trust in leading and guiding people through life changing decisions. Who we have been and what we have done in the past provides a foundation. I help build a roadmap for an awesome future!
Area/Industry of expertise
A professional career in Human Resources, Career Management and Leadership Development spans financial, higher education, consulting, manufacturing, state and county government, healthcare, and non-profit organizations. My background encompasses multiple roles, industries and over 15 years as a people manager.
< Return >