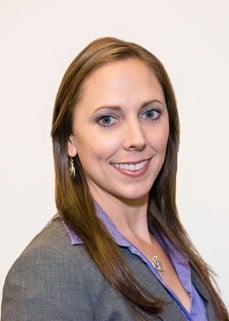 Lindsay Fluty
Name: Lindsay Fluty
Where were you born and raised?
Born: Harbor City, CA
Raised: Palm Springs, CA
What's a short story around the biggest transition you've faced in life?
My story spans a few years, but it involves two major (painful at times) transitions. When I completed an arduous 4 years of graduate school, I got out prepared to immediately start working in my dream career of OD consulting. However, I found my perception of easily attaining my dream career to be a 180 from reality. While looking to start my career in a failing economy, I was repeatedly told that I was unemployable with too much education and not enough real world experience. During this transition to what was my first real glimpse of adulthood (out of school), I took whatever work I could find in the field of HR, which was usually temporary/unstable work. It was this inconsistent state of existence that prompted me to take a leap of faith and pursue opportunities outside of California, which was very uncharacteristic of me.
The realignment of my priorities and reality led me to a great opportunity at Gulfstream Aerospace in Savannah, GA. While the role was a dream role in a great organization, I had zero knowledge of the aerospace industry and even less of southern culture. Being a Southern Californian girl dropped into a southern world was quite the surreal experience. I found myself in a very foreign place with no support system, which I think was the most difficult transition of all. The experience led me to step outside of my normal boundaries, meet people I would not normally meet, find new places, and learn new things. It was a rocky ride, but I am thankful for every minute of it; it taught me that I am stronger than I imagined I could be.
What's the once piece of advice you'd give a younger you?
Life is a marathon, not a sprint. So focus on the destination, but make sure you enjoy the ride. Make sure you do the things that scare you most – you will be glad you did.
Your Personal Why?
To guide and support others in their journey to achieve their highest potential.
How does your Why drive you to be a part of the THF Ecosystem?
I want to help Special Operators target their ultimate goal and coach them through the process. This support throughout the assimilation process into their new role will hopefully make achieving their leadership development and career goals easier to attain.
Military Connection or Why do you respect Special Operators?
I respect Special Operators for the simple fact that they fight and have fought for the freedoms that I enjoy. They are highly trained, high-potential individuals that upon leaving their role, may not always get the support they deserve and require to assimilate into a civilian career. I have also worked with former military personnel in a previous role, and have seen the struggle that they go through to assimilate into their new roles.
Helping with that transition would be a small gesture of thanks I can give in repayment for their service.
Favorite THF Value, and why?
Prepare for Adventure: "Life is either a great adventure or nothing."
I think this resonated with me because of my previous experience with taking a big adventure (in my head) to Savannah, GA. Most of us have a goal or focal point for which we want to attain, and at times we can get tunnel vision. My main goal was achieving my dream career in San Diego. However, at times I was so focused on the final destination that I shut myself off to really great opportunities that naturally occurred around me. It was my move to Georgia that changed my paradigm around viewing the journey as an adventure. We should all take and appreciate those opportunities when they present themselves.
Area/Industry of expertise: Leadership and Organizational Development within Aerospace industry.
< Return >